World Employer Branding Day 2020

Thursday, May 14, 2020 at 9:00 AM

-

Friday, May 15, 2020 at 2:00 PM (WEST)
Event Details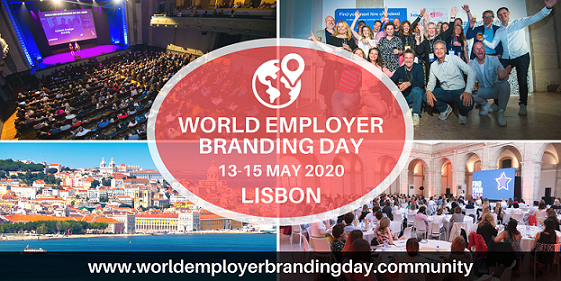 CELEBRATING EMPLOYER BRAND EXCELLENCE AROUND THE WORLD

The 5th Edition, World Employer Branding Day 2020 will bring together more than 800 industry leaders and 50+ country partners from 45+ countries for 3 UNBELIEVABLE days of NEW IDEAS, NETWORKING & CULTURAL expereinces.

The 2019 event sold out in advance with 785 leaders from 48 countries participating and 62 partners supporting the event.

You will network with the world's best employer branding agencies/vendors and learn from case studies of global brands who are driving innovation and best practice in employer brand leadership.

We are planning our biggest International Speaker line up in 2020. Leading companies who have previously shared best practice case studies at World Employer Branding Day include Facebook, Netflix, Mars, Google, Heineken, Salesforce, Amazon Web Services, Accenture, Volvo Cars, UnitedHealth Group, Sanofi as well as the industry's top agencies and vendors including Indeed, TMP Worldwide, OneAgent, LinkedIn, 33 and Tonic.





To view the 2020 International Speaker Team, click here>





The Power of Industry Collaboration
Optimizing internal and external collaboration to foster trust and performance across key functions to drive ROI

Personalising the Employment Experience
Driving higher levels of engagement and productivity through personalization across key employer brand moments of truth

Technology & People
Finding the right balance between human and technological innovation to support a more personalized employment experience from pre-hire to retire

Employer Brand Leadership View from the Top
Key insights from CEO's and industry leaders on how to change and influence senior leader's mindset to support investment in employer branding

Employer Branding Organizational Re-Design
Transitioning to an organizational structure that is agile, integrated and drives higher levels of candidate, employee and customer sentiment

Wellbeing & Performance
Providing the right balance of work, personal development and support to optimize engagement and productivity

Employer Brand Differentiation through Storytelling
Using the power of storytelling to support employee advocacy to attract talent through insights and authenticity

The Future of Employer Branding
Developing solutions to the industry's toughest challenges through sharing of best practice to ensure you remain relevant, agile and adaptable to market changes





DESIGNED FOR

This event will appeal to all levels including CEO's, Business Owners, HR, Talent, Recruitment, Marketing, Communications, PR and Employer Branding professionals.  

THE AGENDA

Conducted in English
The 2020 Agenda is planned to launch in October 2019 and updates will be published at www.worldemployerbrandingday.community





13 May 2020 (9.00am-5.00pm)
PRE-EVENT Masterclasses Day (2 x half day masterclass sessions)

At World Employer Branding Day 2020, leaders will have a choice to begin their World Employer Branding Day 2020 experience by participating in high impact, interactive hands masterclass or workshops presented by International Employer Branding Industry Experts and Practitioners.
The masterclass (2 x half day sessions) are NEW to the World Employer Branding Day agenda and will allow leaders to deep dive into key employer brand leadership trending topics with industry leaders. The masterclass sessions are designed for senior leaders but will also appeal to leaders seeking to understand employer brand strategy and activation better.
Brett Minchington, Founder of World Employer Branding Day, will lead the opening masterclass session. Along with participants and a panel of industry experts and corporate leaders driving best practice, you will discuss, debate and find solutions to some of the industries biggest challenges. 
Be inspired, learn new ideas and connect with experts who are driving best practice in employer branding around the world. Explore with your peers, the industry's hottest topics driving innovation in employer branding and ask questions to industry leaders and learn from their experience.



13 May 2020 (9.00am-5.00pm)
PRE-EVENT Workshops Day (6 x 45 minute workshops)

The pre-event workshops in 2019 sold out 2 months before the event.  Begin your World Employer Branding Day 2020 experience by participating in a day of interactive hands on workshops presented by International Employer Branding Experts & Practitioners.

In peer groups, share, learn and discuss the key trends driving innovation and growth and resolve your biggest challenges

Each workshop topic (45 minutes each) will be led by an expert employer branding leader in a practical and hands on format:

10 mins (overview of key trend topic by industry expert)
25 mins (peer group table discussions)
10 mins (summary of group discussions by industry expert)

14 May 2020 (9am-5.30pm)
World Employer Branding Day International Employer Branding Summit

International speakers from the world's top employer brands and agencies will share practical case study insights of how to build, implement, measure and manage an employer brand. Learn from experienced industry leaders who are driving a new era of employer brand leadership.

14 May 2020 (7pm-10pm)
World Employer Branding Day Cocktail Evening Party

Time to let your hair down and experience the best of Lisbon's nightlife. Spend an amazing evening with employer branding colleagues and speakers at an iconic Lisbon venue. Like all previous World Employer Branding Day Cocktail Parties, this will be a night to REMEMBER with your employer branding friends!

15 May 2020 (10am-12 noon)
Lisbon Discovery Boat Cruise

Explore this beautiful city with your employer branding friends from around the world as you visit many of the most historical and iconic sites in Lisbon, cruising on Lisbon's largest boat.

15 May 2020 (from 12 noon)
World Employer Branding Day Farewell lunch

Conclude your World Employer Branding Day 2020 experience with friends at farewell lunch.
This activitity is Optional, please purchase tickets at registration.
All other events included in the registration fee

For all details please visit the official World Employer Branding Day website at www.worldemployerbrandingday.community



Please read before purchasing tickets

1. By purchasing a ticket(s) to World Employer Branding Day 2020 you agree to the terms & conditions and privacy policy click here >

2. Speakers and agenda may change and any changes will be advertised on the event website as soon as practical.

3. To attend the farewell lunch on 15 May 2020, delegates must have purchased a ticket to attend the events on 13-15 May 2020.


Save This Event
When & Where

Tivoli Theatre
Av. da Liberdade 182-188
1250-146 Lisbon
Portugal


Thursday, May 14, 2020 at 9:00 AM

-

Friday, May 15, 2020 at 2:00 PM (WEST)
Add to my calendar
Organizer

Employer Branding College is a world leader in employer brand leadership training, qualification and accreditation.
Founded in 2011, Employer Branding College has delivered training to thousands of leaders and is proud of its graduates from more than 35 countries and teaches the industry's global standard, the Level 1 Certificate in Employer Brand Leadership for senior leaders.
Our unique and distinct approach using the Employer Branding Ecosystem Model will allow you to identify and adapt to the key elements of systemic change in the world at work.
Students learn from the industry's best employer branding resources and have access to the world's largest online employer branding library of more than 300 books, published articles, case studies, whitepapers, templates, frameworks, strategies and tools to ensure leaders are Certified to the highest level with the most up to date and relevant information.
Our graduates include leaders from Mercedes Benz, Accenture, BHP, British Embassy, McDonalds, Euroconsumers Group, IBM, LinkedIn, AXA, Radisson, Airtel, BAT, Woolworths, Gazprom Neft, SA Water, Repsol, NZ Post, Scotiabank, IHG Hotels and many more companies around the world.
Our practical and personalized approach will ensure you are able to apply your capabilities and knowledge to address complex talent attraction, engagement and retention issues facing organisations today.