World Employer Branding Day 2019

Thursday, May 16, 2019 at 9:00 AM

-

Friday, May 17, 2019 at 2:00 PM (WEST)
Event Details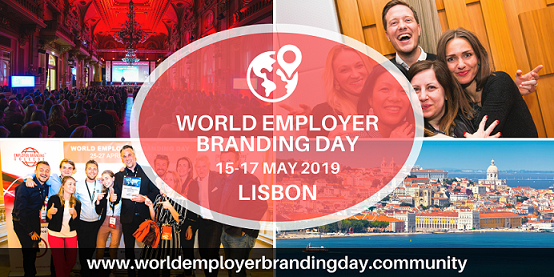 CELEBRATING EMPLOYER BRAND EXCELLENCE AROUND THE WORLD
World Employer Branding Day 2019 will bring together more than 500 industry leaders and 40 country partners from 45+ countries for 3 UNBELIEVABLE days of NEW IDEAS, NETWORKING & LEARNINGS from many of the world's leading brands.
You will network with the world's best employer branding vendors and learn from case studies of global brands who are driving innovation and leading the way in employer brand leadership. 
It's our biggest International Speaker line up with companies including Facebook, Netflix, Mars, Amazon Web Services, Accenture, Sanofi, OneAgent, Indeed, TMP Worldwide and Tonic among many of the 35+ world's leading employer brands and agencies presenting.

To view the 2019 International Speaker Team, click here>

New Ways of Thinking
Connecting candidate, employee and customer experience through stronger and more fluid collaborations across HR, Marketing, Communications, Finance and IT

Employer Branding Ecosystem Development
A systemic approach to employer branding led by new mindsets, business models and networks

AI, Robotics & Machine Learning
Finding the right balance between human and technology to support a more personalized employment experience from pre-hire to retire

CEO inspired employer branding
Key insights from CEO's on how to change senior leader's mindset to support investment in employer branding

Talent Sourcing & Diversity
Leveraging pockets of talent excellence from all over the world

Business Impact
Implementing global best practice to drive ROI & business impact

Digital Differentiation
Competing for talent by creating signature experiences across key employer brand moments of truth

The Future of Employer Branding
Advice from industry leaders on where to focus investment to ensure you remain relevant, agile and adaptable to market changes




DESIGNED FOR

This event will appeal to all levels including CEO's, Business Owners, HR, Talent, Recruitment, Marketing, Communications, PR and Employer Branding professionals.  
THE AGENDA

Conducted in English
Agenda updates will be published at www.worldemployerbrandingday.community

15 May 2019 (9.00am-5.00pm)
Pre-event expert workshops - UP, CLOSE & PERSONAL with Industry leaders

Begin your World Employer Branding Day 2019 experience by participating in high impact, interactive hands on workshops presented by International Employer Branding Industry Experts and Practitioners. 
Be inspired, learn new ideas and connect with experts who are driving best practice in employer branding around the world. Explore the industry's hottest topics driving innovation in employer branding amonst your peers and ask questions to industry leaders and learn from their experience.
​Each workshop topic will be led by an expert employer branding leader and table groups moderated by industry leaders in a practical and hands on format: 
10 mins (overview of key trend topic by industry expert)
30 mins (peer group table discussion facilitated by industry leader)
10 mins (summary of group discussions by industry expert)
16 May 2019 (9am-5.30pm)
World Employer Branding Day 2019 International Employer Branding Summit
International speakers from the world's top employer brands and agencies will share practical case study insights of how to build, implement, measure and manage an employer brand. Learn from experience industry leaders who are driving a new era of employer brand leadership. 
16 May 2019 (6.30pm for 7pm-10pm)
indeed World Employer Branding Day Cocktail  Party
Time to let your hair down and experience the best of Lisbon's nightlife. Spend an amazing evening with employer branding colleagues and speakers at an iconic Lisbon venue. Like all previous World Employer Branding Day Cocktail Parties, this will be a night to REMEMBER with your employer branding friends!
17 May 2019 (10am-12 noon) 
Lisbon Discovery Guided Tour
Explore this beautiful city with your employer branding friends from around the world as you visit many of the most famous sites in Lisbon.
17 May 2019 (from 12 noon)
World Employer Branding Day Farewell lunch
Conclude your World Employer Branding Day experience with friends at farewell lunch.
​
Optional, purchase tickets at registration.
All other events included in the registration fee
For all details please visit the official World Employer Branding Day website at www.worldemployerbrandingday.community
Please read before purchasing tickets
1. By purchasing a ticket(s) to World Employer Branding Day 2019 you agree to the terms & conditions and privacy policy click here >
2. Speakers and agenda may change and any changes will be advertised on the event website as soon as practical.
3. to attend the farewell lunch on 17 May 2019, delegates must have purchased a ticket to attend the events on 15-17 May 2019..
When & Where

Tivoli Theatre
Av. da Liberdade 182-188
1250-146 Lisbon
Portugal


Thursday, May 16, 2019 at 9:00 AM

-

Friday, May 17, 2019 at 2:00 PM (WEST)
Add to my calendar
Organizer

Employer Branding College is a world leader in employer brand leadership training, qualification and accreditation.
Founded in 2011, Employer Branding College has delivered training to thousands of leaders and is proud of its graduates from more than 40 countries and teaches the industry's global standard, the Level 1 Certificate in Employer Brand Leadership for senior leaders.
Our unique and distinct approach using the Employer Branding Ecosystem Model will allow you to identify and adapt to the key elements of systemic change in the world at work.
Students learn from the industry's best employer branding resources and have access to the world's largest online employer branding library of more than 400 books, published articles, case studies, whitepapers, templates, frameworks, strategies and tools to ensure leaders are Certified to the highest level with the most up to date and relevant information.
Our graduates include leaders from Mercedes Benz, Accenture, BHP, British Embassy, McDonalds, Euroconsumers Group, IBM, LinkedIn, AXA, Radisson, Airtel, BAT, Woolworths, Gazprom Neft, SA Water, Repsol, NZ Post, Scotiabank, IHG Hotels and many more companies around the world.
Our practical and personalized approach will ensure you are able to apply your capabilities and knowledge to address complex talent attraction, engagement and retention issues facing organisations today.