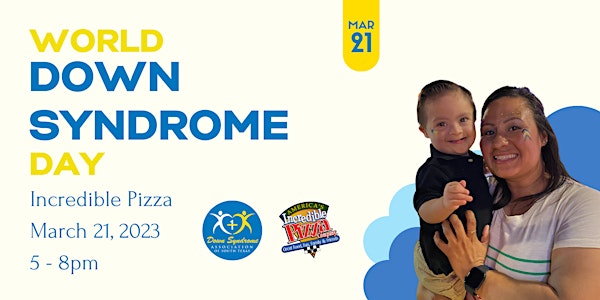 World Down Syndrome Day Celebration 2023
World Down Syndrome Day is observed on March 21 every year to raise public awareness of Down syndrome, the most common congenital disorder
By Down Syndrome Association of South Texas
Date and time
Tuesday, March 21 · 5 - 8pm CDT
Location
San Antonio's Incredible Pizza Company 2015 SW Loop 410 San Antonio, TX 78227
About this event
World Down Syndrome Day is annually observed on March 21 to raise public awareness of Down syndrome, a congenital disorder caused by having an extra 21st chromosome.  We come together as a community on this very special day and we will have Incredible Pizza to ourselves from 5:00-8:00 pm to share a meal (buffet) and play.  Since game cards are unlimited, there are no prize tickets given out but all games and rides are free. 
You must be registered to attend and tickets are sold online only:
Individuals with Down syndrome or other disabilities are free
Children 0-3 years old are free 
Children 4-11 are $5
Ages 12+ are $5
You can bring family, friends & members of our community to celebrate all of our loved ones with Down syndrome!
Food, fun, games and good company...come join us!
~~~~~~
El Día mundial de Síndrome de Down es observado cada año en el día 21 de Marzo para crear conciencia sobre el Síndrome de Down, un defecto congénito causado por una cromosoma 21 extra. Toda la comunidad se reúne en este día tan especial en Incredible Pizza en una fiesta privada para nuestra celebración de 5:00-8:00 Pm para compartir una comida estilo buffet y jugar. Como nos van a dar tarjetas de juego sin límites, no habra premios pero todos los juegos son gratis!
Registración es requerida para asistir y ticketes solo son vendidos en linea:
Las personas con Síndrome de down o otra disabilidad son gratis
Niños de 0-3 son gratis
Niños de 4-11 cuestan $5 cada uno
12++ cuestan $5 cada uno
Usted puede invitar a toda su familia, amigos o cualquier persona de la comunidad para esta celebración de nuestros seres queridos con Síndrome de Down.
Comida, juegos, y diversión, únase a esta celebración!
NO se aceptan devoluciones.