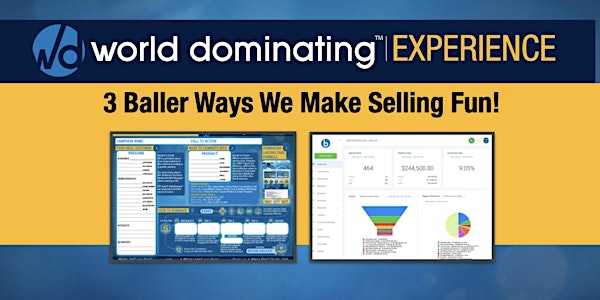 World Dominating Experience - 3 Baller Ways We Make Selling Fun!
We're here to put a stop to the all too common sales struggle. We absolutely love sales because we know how to make it fun… And you can too!
About this event
Come play at the World Dominating Experience
Thursday, July 22
9 am - 12 pm PST / 12 pm - 3 pm EST
At this workshop, you will…
Discover how to have FUN selling, and be successful at it
Outline who your ideal customer is and what they actually want to buy
Discover how to give your best stuff away for free and still make money with it
Create a blueprint for a value-driven campaign that is fun for you and your lead
Understand how to connect, automate and track your leads, sales, and marketing with ease
Way too many entrepreneurs and business owners cringe at the idea of selling. And honestly, the traditional way of doing sales could make us cringe too. That's why we love the way we do sales. Not only is it full of integrity, with a no B.S. attitude, but it's truly a blast. That's right… we have FUN!
So join us for the World Dominating Experience where we're revealing our top-secret tool in how we scale our sales and marketing. (Hint: it's baller)
Here's a sneak peek at what we'll be covering: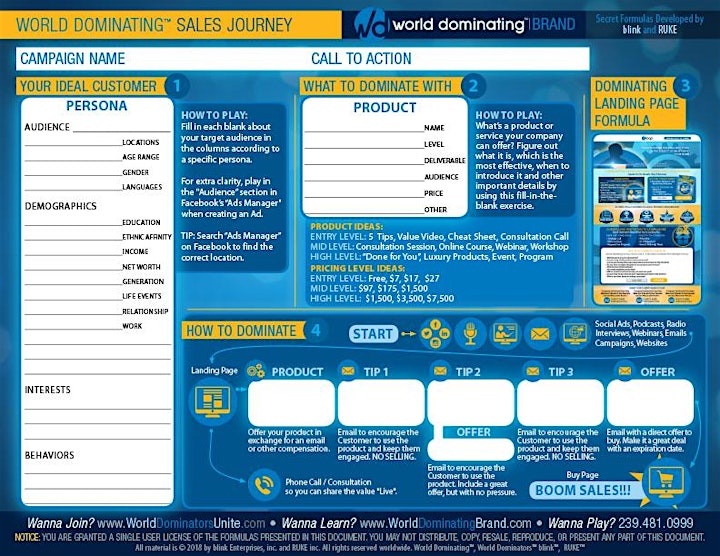 Wanna know even more of those secrets? Come play!
9 am - 12 pm PST / 12 pm - 3 pm EST
OPEN TO THE PUBLIC
------------
$0 - Alliance Members Access
World Dominating™ Alliance Members! This is included in your membership :)
To explore becoming a part of the World Dominating™ Alliance, come see us at our Open House Preview.
https://calendly.com/ruke/preview
++++++++++++++++++++++++++++++++++++++++++++++++
P.S. Wanna know the 3 Baller Ways We Make Selling Fun, (And how you can too)?
Come play at the World Dominating Circle
on Tuesday 1 pm EST / 10 am PST! Register Here!