Description
WORLD BUSINESS SUMMIT NEW YORK
SEPTEMBER 20th 2017
8:00am-4:00pm Registrations
8:00-9:00 Networking breakfast
9:00-10:00 Welcoming remarks & keynote speaker
10:00-11:00 Session 1 | Investment + Banking + Finance
11:00-12:00pm Session 2 | Media + Communication
12:00-2:00 Luncheon & Keynote address
2:00-3:00 Session 3 | Technology + Innovation + Entrepreneurship
3:00-4:00 Session 4 | Construction + Real Estate
4:00-5:00 Networking reception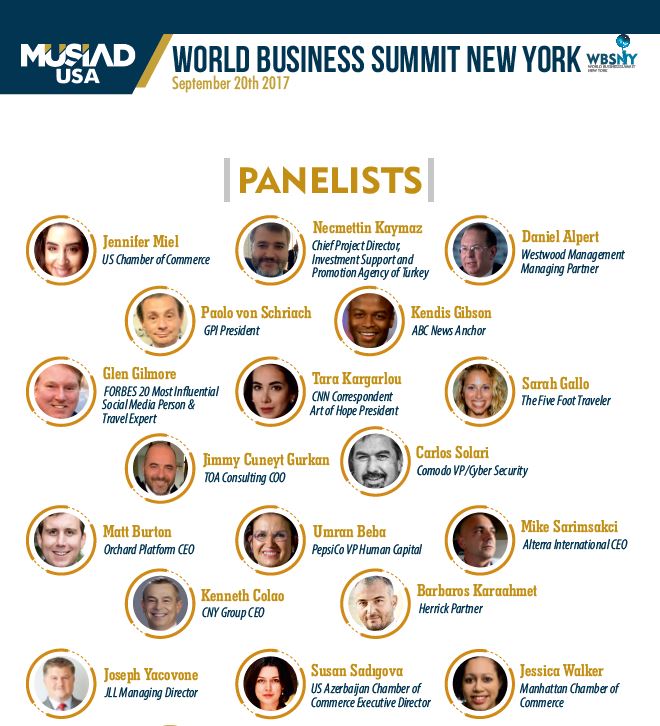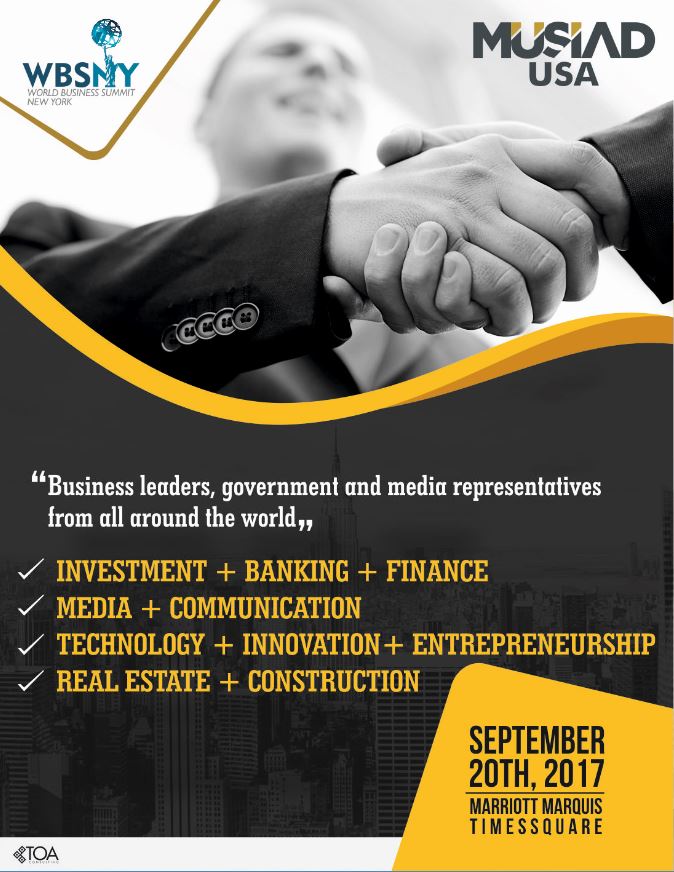 World Business Summit New York focuses on:
-Increasing business relations between the United States and the world
-Connecting 250+ business people, thought leaders, entrepreneurs, industry executives, keynotes, panelists, government representatives, NGO's, non-profits at the same platform
-Establishing a solid platform in New York to connect countries from all around the world and United States with an annual business summit during 72nd United Nations General Assembly
-Utilizing commerce for enhancing America's relations globally thru business, culture, social issues and politics
-Raising funds for non-profits
-Introducıng industry leaders to American business eco-system
-Developing common positions on foreign policy issues
-Coordinating actions to combat international terrorism, separatism, extremism and cross-border crimes
-Promoting effective regional and bilateral cooperation in all areas of common interest
-Aiming for comprehensive and balanced economic growth, social and cultural development
-Encouraging interaction of mass media and other means of communication
-193 member countries of the UN, UN correspondent association members and the international media representatives are invited to this special event
MÜSİAD's major activities include:
Organizing trade delegation visits to foreign countries.
Organizing international trade fair bi-annually.
Hosting the headquarters of and contributing to IBF-International Business Forum.
Searching and promoting new tempting markets.
Publishing country and sector reports, researches on economic and social issues.
Disseminating information via publications and website portals.
Networking its members among themselves and with overseas companies via several activities.
Providing educational and professional seminars to enhance the competitiveness of its members.
Organizing B2B meetings for overseas business delegations with matching members.