World AIDS Day 2019: Highlighting Women of Color Living with HIV and STD's
Description
Preregistration is required to obtain a ticket for this event as seating is limited. Register now!
As many of you know, right now, California is facing multiple epidemics of sexually transmitted infections. In 2017, there were 1,731 new HIV reported cases in the Los Angeles County, and the level of STDs such as chlamydia, gonorrhea, and syphilis is rising at an alarming rate. The effects on women and their families can be devastating, and women and girls of color are disproportionately impacted. Not only must they navigate an often-intimidating health system, but they must mitigate the adverse effects of these conditions including infertility, health risks for their infants, and stigma.
Every year around December 1st, individuals, groups, organizations and others commemorate World AIDS Day and inspire the world to act by calling attention to the devastating HIV epidemic. On December 6, 2019, UCLA AIDS Family Network and WeCanStopSTDsLA will host an event to honor this day.
Presenters will highlight important links between HIV and STDs, present useful tools for community members and service providers, and share stories of how others can show up for women and girls living with HIV and STDs.
UCLA Family AIDS Network will premiere it's Women and HIV bilingual video series. The videos address HIV and pregnancy as well as Mental Health for women living with HIV.
We hope to see you there!
Cheers,
Los Angeles Family AIDS Network & WeCanStopSTDsLA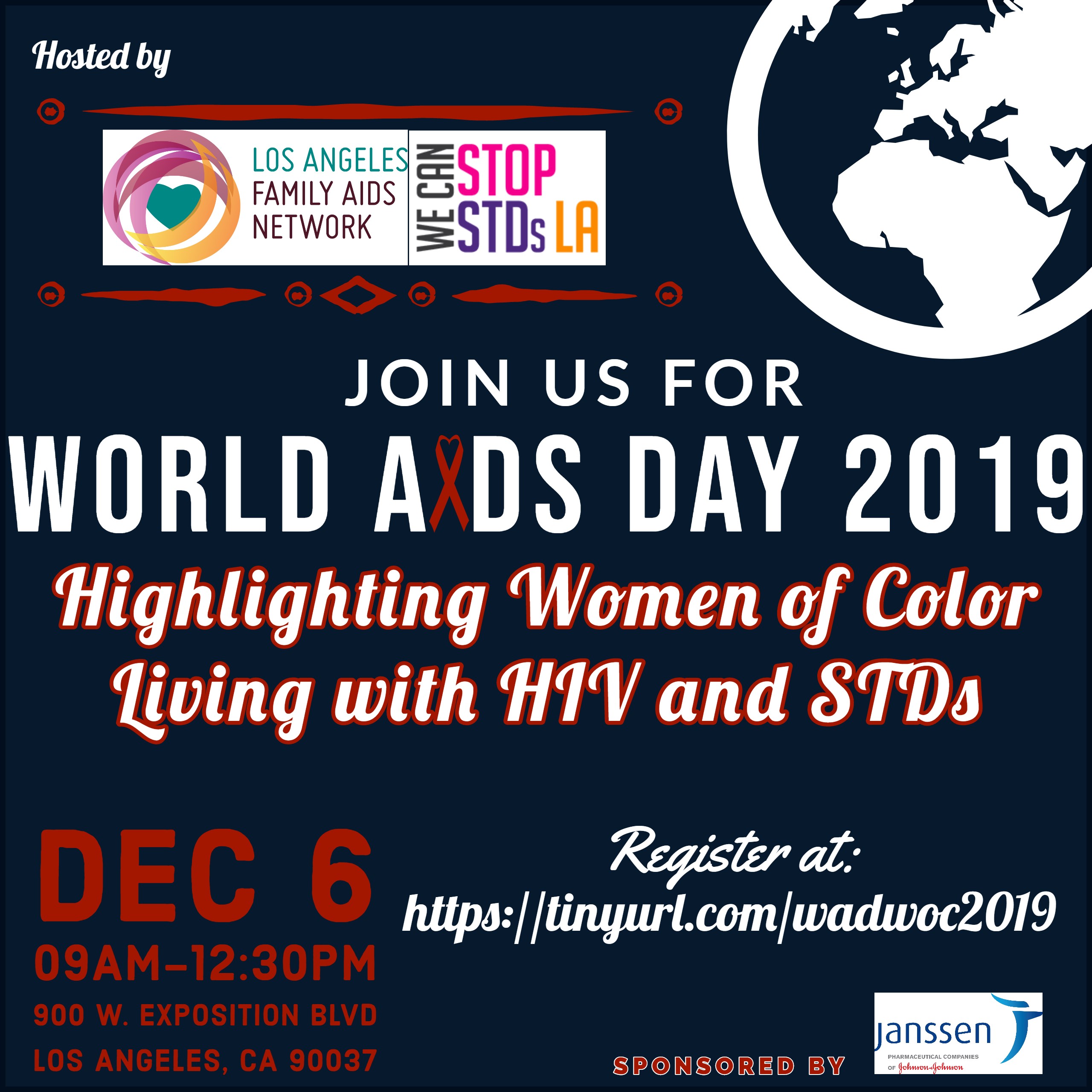 Organizer of World AIDS Day 2019: Highlighting Women of Color Living with HIV and STD's
The Los Angeles Family AIDS Network is a collaborative whose mission is to facilitate access to medical care and support services for women, infants, children and youth living with and/or affected by HIV through high quality, family-centered network of culturally and linguistically competent providers. To learn more visit our website at http://www.lafan.org/.