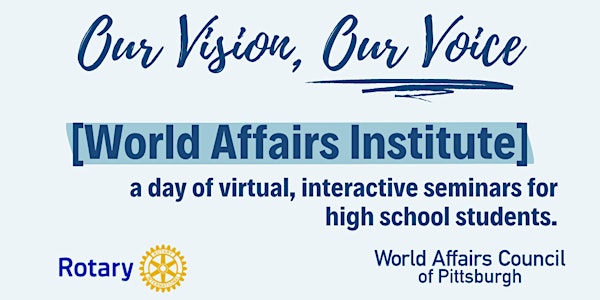 World Affairs Institute - Redefining Youth Learning: Our Vision, Our Voice
The World Affairs Institute will explore local and global issues with youth activists and change-makers from around the world!
About this event
At the 50th annual World Affairs Institute for Student Leaders, we will work to empower and inspire you to meet your potential. At this event designed by and created for youth, we will explore local and global issues and find strategies to become part of the solution. The event will feature in-depth sessions on social justice issues, highlight youth making change locally and globally, and provide opportunities to gain skills and motivation for taking sustained and meaningful action. We hope that this day-long Institute will inspire you to tackle global issues and take your skills to change your community for the better!
The World Affairs Institute is FREE and open to all high school students (grades 9-12). Prizes will be awarded throughout the event based on engagement and participation!
For more information, including confirmed speakers, please visit: www.worldpittsburgh.org/wai50
TENTATIVE Agenda
7:30 - 8:00 AM: Welcome + Introductory Remarks + Invitations to Participate
Exploring Social Justice Issues
8:00 - 8:50 AM: Session 1: Moderated panel discussion addressing social justice issues + Q&A
9:00 - 9:30 AM: Session 2: Deep drive on the issues + Q&A
9:40 - 10:00 AM: Session 3: Short remarks from youth taking social justice action
10:00 - 10:20 AM: Break featuring local youth artist performance (optional)
Youth Locally and Globally Making Change
10:20 - 10:40 AM: Session 4: Short remarks from youth making change locally and globally
10:50 AM - 12:20 PM: Session 5: Workshops on taking action
12:20 - 12:30 PM: Session 6: Write a public action statement
12:30 - 1:00 PM: Break featuring a game (optional)
Methods to Use When Needing Motivation
1:00 - 1:20 PM: Session 7: Motivation to take action and advice on how stay engaged
1:30 - 2:10 PM: Session 8: Individual action or collective organizing
2:20 - 3:00 PM: Session 9: Self-care
3:10 - 3:30 PM: Closing Remarks + Ways to Stay Engaged