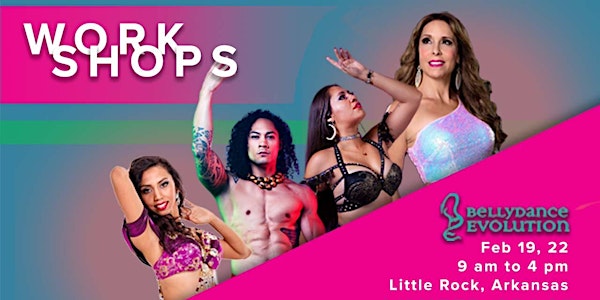 Workshops with Jillina, Luna, Kapua & Shannon
Dance with the Lead Cast from BDE's The Jungle Book!
When and where
Location
Shuffles & Ballet II 1521 Merrill Drive Little Rock, AR 72211
About this event
Dance with the lead dancers from Bellydance Evolution's The Jungle Book in these unique workshops.
Purchase all 4 workshops and save, PLUS get 10% off tickets to the show on February 18!
9-10:30am Fusion Bellydance with Luna $30
Experiment with different belly dance techniques along with emotional and contemporary approaches, which can assist you to develop your own style. We will see combos and emotional projection within a short choreography.
10:30-12:30 Sharqi Jillina Style $75
Learn a short routine moving to various tempos and explore expression in Jillina's signature stye of theatrical choreography. Expect to be challenged whether you are new to this art form or an experienced dancer.
1:00-2:30 Kapua $30 Ori Tahiti
Journey with Kapua to the Polynesian islands, Tahiti to be exact, where you will experience the cultural art form and basics of Ori Tahiti, also known as Tahitian dance! Enjoy the power of traditional drumming and embrace the feeling of moving island style!
2:30-4:00 Shannon $30 Bollywood
Explore the colorful world of India! Experience the eclectic fusion of Indian Classical & folk dances with today's contemporary styles of dance in what is popularly known as Bollywood. This workshop will focus on learning signature dance moves most often used in Hindi films. Get ready to move, sweat, and have fun!
Total Price = $165
Package Price = $135 plus 10% off show ticket