WORKSHOPS TICKETS LONDON MASTERPIECE APRIL 11-12-13, 2014

Friday, April 11, 2014 at 10:00 AM

-

Sunday, April 13, 2014 at 10:00 PM (BST)
Event Details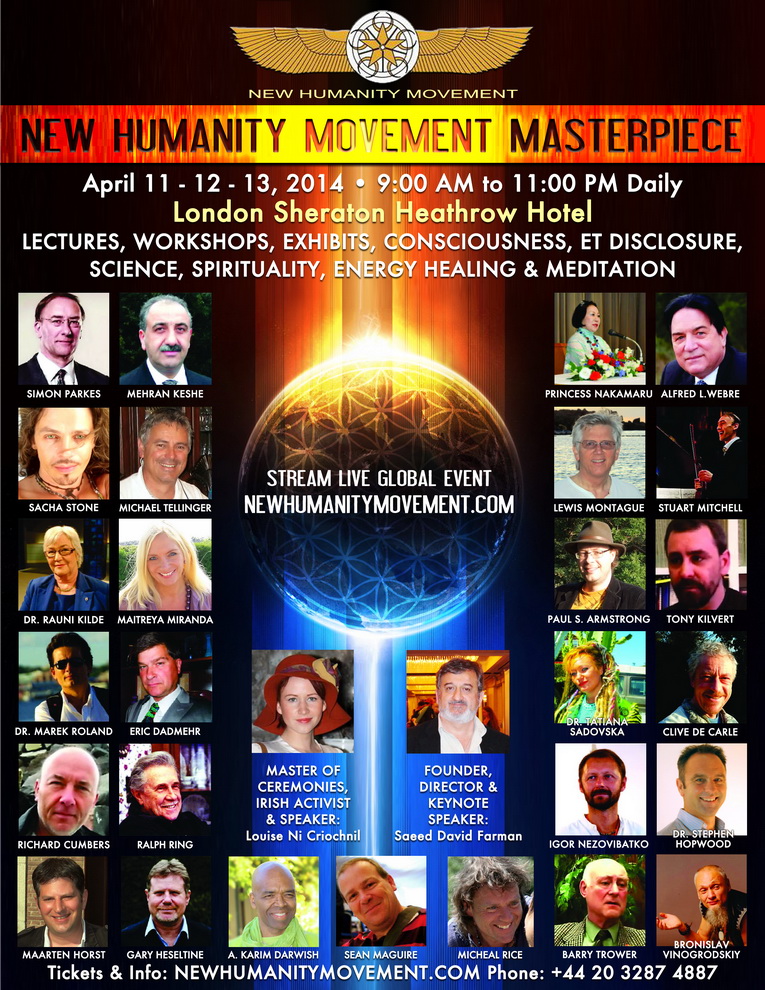 NEW HUMANITY MOVEMENT LONDON MASTERPIECE
WHY: "Rewriting our Future as we celebrate 3 Days in London" (Open to public 18+}
DATE: APRIL 11TH-12TH -13TH, 2014, 9:00 AM TO 11:00 PM, GMT DAILY
LOCATION: London Sheraton Heathrow Hotel, Heathrow Airport ·
Colnbrook Bypass · West Drayton EN UB7 0HJ, UK. PHONE: (44)(208) 7592424
Sheraton Hotel room discount £79 must register before MARCH 1ST 2014 (Reg £130):http://bit.ly/1fjoQkI
24 Hrs parking £5,   London: +44 20 3287 4887    USA: +1-310-908-6682   WEBSITE: http://newhumanitymovement.com
Masterpiece Event is about:
GATHERING OF ALL LIGHTWORKERS, STARSEEDS, INDIGOS, ALPHAS, NEW HUMANITY GLOBAL GROUP, PLUS RESPONSIBLE, AWAKENED & EDUCATED PUBLIC WHO CARE ABOUT THE PLANET COMING TOGETHER WITH 33 SPEAKERS, LECTURES, 4 PANELS, 3 DAYS WORKSHOPS, EXHIBITS, NETWORKING, CONSCIOUSNESS, SCIENCE, ET DISCLOSURE, QUANTUM PHYSICS, FREE ENERGY, SPIRITUALITY, HEALTH, ENERGY HEALING, MEDITATION, MUSIC & FOOD.
What is New Humanity Movement?
New Humanity Movement consists of a global group of Awakened, Humanitarian, Peace loving humans who believe in a new Earth with common goals for a totally different future outcome, our Movement is currently rewriting a new Future in a positive direction for mankind by bringing forward new ideas and ways for living in harmony and peace with a universal code of ethics and standards, New Humanity Movement is a Global one has no borders & looks at humanity as one entity, members discuss, share, research and implement new possibilities in Science, Technology, Health, Healing, ET contact, Space exploration, Spiritual expansion & Transformation of Consciousness, Permaculture and how to create a new path for Humanity with Global Peace, Freedom, Free energy, Free Speech, moving away from current banking system, Geo Engineering, GMO food industrialization, Mind control spying systems, Militarization, Secret societies, Nuclearization of the planet, Warmongering strategies & Enslavement of masses, purpose of the New Humanity Movement is to help assist our whole planet to shift into a higher state of consciousness & awareness. http://newhumanitymovement.com
The 11TH event in 5 years the Masterpiece begins @ 9:00 AM GMT starting with a Sufi meditation by its founder Saeed David Farman followed by his talk on Status of the Planet & New Humanity Movement . LONDON MASTERPIECE will cover wide areas of our lives from Leadership, Consciousness, Health, Healing, Quantum Physics, Torsion Physics, Fringe Science, Pattern recognition, Genetic Mutation, DNA change with wave genetics, Ecology, Bio Architecture, Sacred Geometry, Activation of Galactic DNA, Cancer Prevention, Free Energy, Alien Agenda, Rendlesham Nuclear Facility UFO incident with actual witnesses, ET Disclosure, Star Children, Indigos, Ufology, Teleportation, Astro Projection, Invisibility, ET Contact Studies, Time Travel studies, Multiple Alternate Realities, Secret Space Programs, Project Pegasus, Montauk Project, Project Blue Beam, Dulce Alien base, Mars Base, Cosmology, CERN LHC, HAARP, Fukushima, Nuclear Radiation, Survival, Mind Control, GMO, Human Rights, Cosmic Ascension, Healing, Soul Transformation, Spiritual Freedom, Sufi Barakat (Blessings), Chanting, Poetry, Dialogues, Happiness, Tantra, Diet, Shamanism, Angels, Mantras, Abundance, Inspiration, Enlightenment, Peace, Liberty, Meditation, Universal Love & Forming a New Future for a New Humanity.
MASTER OF CEREMONIES, SPEAKER & IRISH ACTIVIST: Louise Ní Criochníl
KEYNOTE SPEAKERS: Michael Tellinger, Nuclear Plant Specialist Mehran Keshe, Princess Kaoru Nakamaru, Dr. Rauni Kilde, Founder Saeed David Farman, Sacha Stone, Councillor Simon Parkes, Dr. Stephen Hopwood, Lewis Montague, Alfred Lambremont Webre, JD, MEd., Dr. Marek Roland, Barry Trower, Bronislav Vinogrodskiy, Konstantin Pavlidis, Michael Rice, John Consemulder, Eric Dadmehr, Gary Heseltine, Paul Salahuddin Armstrong, Sudi Burnett, A. Karim Darwish, PhD., Maitreya Miranda, Gano Grills, Ralph Ring, Igor Nezovibatko, Stuart Mitchell, Alan Bedian, Sean Maguire, Dr. Tatiana Sadovska, Tony Kilvert, Richard Cumbers, Louise Ni Criochnil, Clive De Carle, Maarten Horst, Renske Skills plus many more.
MUSIC BY: STUART MITCHELL, LIBBY LAWES & RESKE SKILLS
When & Where

Sheraton Heathrow Hotel
Heathrow Airport · Colnbrook Bypass · West Drayton UB7 0HJ · United Kingdom

United Kingdom


Friday, April 11, 2014 at 10:00 AM

-

Sunday, April 13, 2014 at 10:00 PM (BST)
Add to my calendar
Organizer
New Humanity Movement consists of a global group of Awakened, Humanitarian, Peace loving humans who believe in a new Earth with common goals for a totally different future outcome, our Movement is currently rewriting a new Future in a positive direction for mankind by bringing forward new ideas and ways for living in harmony and peace with a universal code of ethics and standards, New Humanity Movement is a Global one has no borders & looks at humanity as one entity, members discuss, share, research and implement new possibilities in Science, Technology, Health, Healing, ET contact, Space exploration, Spiritual expansion & Transformation of Consciousness, Permaculture and how to create a new path for Humanity with Global Peace, Freedom, Free energy, Free Speech, moving away from current banking system, Geo Engineering, GMO food industrialization, Mind control spying systems, Militarization, Secret societies, Nuclearization of the planet, Warmongering strategies & Enslavement of masses, purpose of the New Humanity Movement is to help assist our whole planet to shift into a higher state of consciousness & awareness. http://newhumanitymovement.com