Event Information
Location
Sutherland Labs
128 Spear Street
Level 3
San Francisco, CA 94105
Description
We often hear people postulate about how the future will be fill in the blank. The truth is, the future cannot be predicted; even more important there is no one future but a variety of possible futures. In this workshop, you will use a combination of strategic foresight, design thinking, and innovation to consider a variety of personal futures. You will learn how to better analyze and study the future using classic strategic foresight methods and tools that have been redesigned into mini exercises. This workshop will disrupt your view of the future, challenge your assumptions, and offer you insight into other possibilities for your future 5, 10, even 20 years out.
This workshop is being run by Alida Draudt and Julia Rose West. Co-authors of What the Foresight.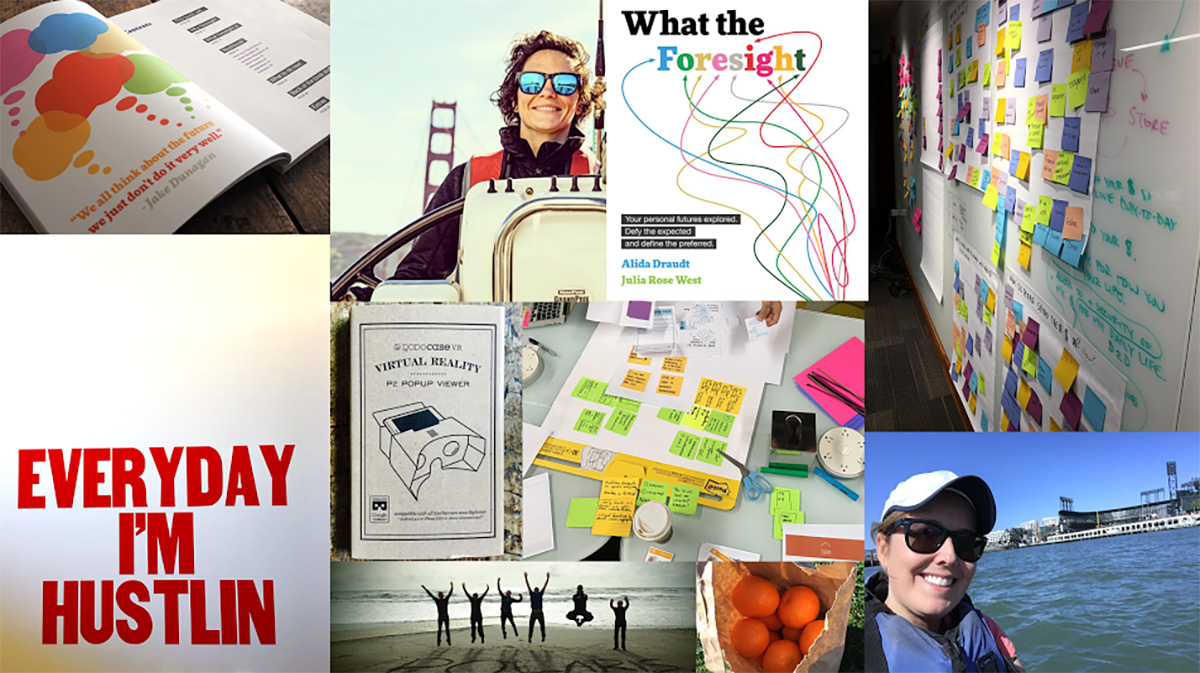 Julia Rose West holds an MBA in Strategic Foresight and is a Futurist and UX Design Manager at Ancestry. Most recently Julia presented on the Future of Family History at RootsTech. She is a Futurist for the Threatcasting Lab at Arizona State University. She is passionate about transforming communities and empowering others and has volunteered as a community prototyper for OpenIDEO and was an executive business coach for Defy Ventures. She is currently completing a textbook for middle school students, Futures Thinking Playbook, with Futurists Peter Bishop and Katie King. Other foresight work has spanned subjects such as – The Uberization of American Public Housing 2025, which received a recognition award by the Association of Professional Futurists, Implications of Do-it-Yourself CRISPR, and the Future of Search. She is a co-author of What the Foresight, a personal futures workbook.
Alida Draudt is a foresight strategist, pattern finder, empathetic researcher and business designer – Alida seeks to find and understand the fringe ideas that are poised for large disruption. With a background in design and innovation firms, as well as an MBA in Strategic Foresight and Design Strategy from California College of the Arts, Alida is Capital One's first Futurist, and a Futurist with the Threatcasting Lab out of Arizona State University in conjunction with the Army Cyber Institute. Her passion for bringing the future to bear in the present has driven both personal and professional projects. Her recent futures work spans a variety of subjects including The Future of American Public Housing 2025, Future of Money 2020, Implications of 4D Printing and Programmable Matter, Implications of Autonomous Vehicles on the Gig Economy, Blockchain applications, and Banking 2022. Her first co-authored book with Julia Rose West, What the Foresight, launched on Amazon in September 2016.

Thanks to our friends at Sutherland Labs for hosting us!
---
HOSTED BY: Design Futures
Design Futures brings together a community those interested in Critical Design, Speculative Design, Design Fiction, Discursive Design, Futurism, Science Fiction or any other incarnation of the approach which involves using Design to speculate about alternate futures.
CONTACT INFO:
mattmayfield@gmail.com
---
Event Type : Workshop
Event Focus : Digital + Tech, Design Education, Product Design
REFUND POLICY : We do not offer refunds. If event is sold out, we might be able to give your spot to someone on the waitlist.
Date and Time
Location
Sutherland Labs
128 Spear Street
Level 3
San Francisco, CA 94105