Workshop: Turn Your Dreams Into Goals And Realities
Description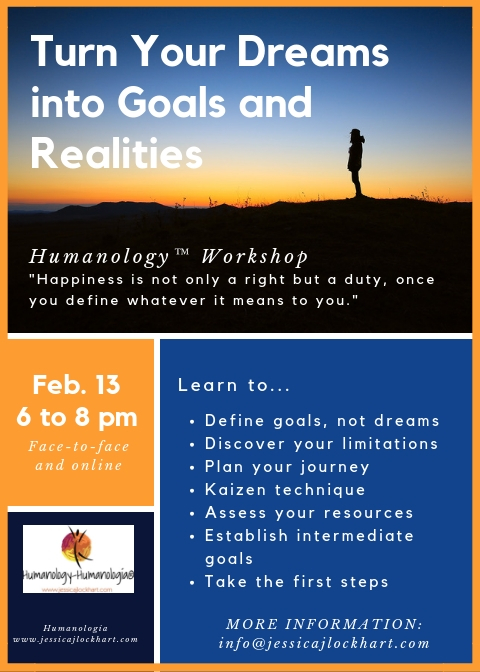 Tired of never reaching your goals? Frustrated and unmotivated? Have you ever wondered what your blocks and limitations truly are? What resources do you have and which ones do you need? How can you accelerate your process? Today I invite you to this very special workshop that will help you learn how to establish and truly reach objectives and goals
We're not born knowing how to set goals and objectives, so we usually learn by imitating others. But that might not be the best way. What if I told you that setting the right goals and objectives will truly help you reach them?
This workshop will help you:
Establish and reach personal and professional goals
Develop your skills and improve your performance
Meet deadlines and priorities better
Optimize your abilities and strengths
Upon completing this workshop you will have…

A life-long tool
A very deep understanding of the process and its steps
A specific, individual plan to reach the goals you define for yourself
Additional tools
This course will be held in Bern but can also be accessed online and will include all necessary materials.

Teacher: JESSICA J. LOCKHART
Pioneer and developer of Humanology™ as a discipline, Optimism Coaching® and Personal Essence® among others, Jessica J. Lockhart designed several models to help human beings foster and facilitate their growth and development. She has also written several books on humanology, optimism coaching and personal development coaching.

Jessica J. Lockhart worked as a teacher, simultaneous interpreter and translator for many years and is today devoted to helping other human beings reach their full potential in all fields of life. She has published several books: The Optimist in You. Coaching for You. What Story do You Tell Yourself?

She was recently recognized and awarded as one of the Best 100 Global Coaching Leaders in the World by CHRO Asia and selected Coach of the month of June 2017 by the Expat Coach Association. J. Lockhart participates in different international events as a professional speaker, regularly contributes to several online magazines, journals and platforms, hosts a weekly radio show in Spanish in collaboration with Spain and Mexico and is married and has two children.