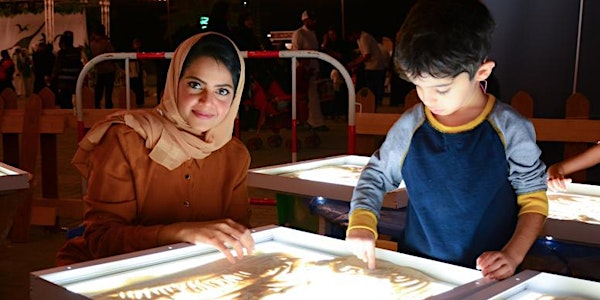 Workshop - The Art of Sand
Explore your creativity and have some fun in this special workshop designed for our younger learners. Create art with Sand! Children 3- 8
When and where
Location
LEVEL 5 @ Riffa Views International School Al Mazrowiah Building 407, Road 4303 Block Al Mazrowiah 943 Riffa Views, Manama Bahrain
About this event
Explore your creativity and have some fun in this special workshop designed for our younger learners. Create art with Sand!
Children 4- 8
About the workshop
Students will be able to learn how to draw with sand artist Zahra Al Nasser on a screen, and each will have their own sand box and table.
Who is this for?
The workshop will be open to youngsters aged 4 to 8.
Key Takeaways
The goal is to create a culture in which everybody at the event are aware of how great sand art is, and how quickly children can learn to draw with sand and fill their time with something creative and enjoyable.
About the facilitator
Zahra Al Nasser, first and only sand artist
in Bahrain since 2007, and one of three artists in the GCC counties, who participated and worked with several events and companies in the " UK, Turkey, Saudi Arabia, UAE, Kuwait, Qatar, and Bahrain" .
Also, Social media influencer with over 60k followers on Instagram , and 100k views on Snapchat.
Moreover Zahra al Nasser appeared on several TV shows and interviews on MBC , Dubai , and Bahrain TV .