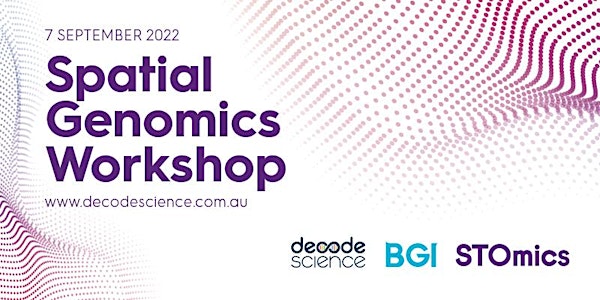 Workshop: Spatial Genomics Workshop Featuring the BGI STomics Technology
Revealing TRUE nanoscale resolution to answer your spatial biology questions with STOmics
When and where
Location
The University of Queensland 306 Carmody Rd Saint Lucia Brisbane, QLD 4072 Australia
About this event
BGI STOmics (a division of BGI Group) developed the world-leading spatial biology technology Stereo-seq. By achieving multi-centimeter field of view combined with nanoscale resolution for unbiased in situ whole transcriptome studies of organisms and tissues, Stereo-seq is poised to revolutionize life sciences research and clinical applications.
Built on DNA Nanoball (DNB) technology, BGI's proprietary Stereo-seq (SpaTial Enhanced REsolution Omics-se-quencing) technology offers researchers a novel tool to explore spatial biology with unprecedented field-of-view, high throughput and subcellular resolution, enabling simultaneous transcriptome study and analysis at tissue, cellular, subcellular and molecular-level. Stereoseq helps you to establish a solid research foundation for further understanding the relationship between gene expression morphology of cells and local environment.
How it works
STOmics-GeneExpression-S1 Chips are 1cm x 1cm sized patterned grids of probes containing spatial coordinates. Upon interaction with a tissue section, cDNA is synthesized in situ from mRNA captured by the chip probes. Sequencing the cDNA with their spatial coordinates allows in siloco reconstitution of the spatial transcriptomic profile of the tissue section, allowing easy visualization and analysis.