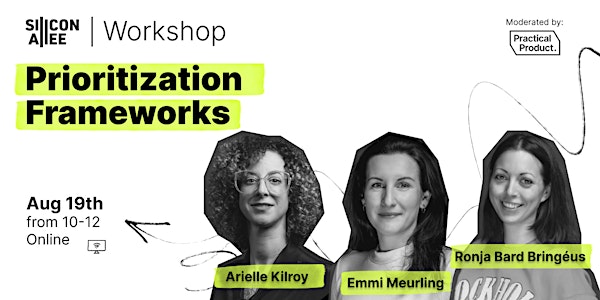 WORKSHOP: Prioritization Frameworks
Learn how to manage your workflow in this interactive Prioritization Frameworks Workshop moderated by Practical Product cofounders.
About this event
Join us online on August 19 for an interactive workshop hosted by Arielle Kilroy, Emmi Meurling, and Ronja Bard Bringéus, cofounders of Practical Product. In this workshop you'll gain actionable prioritisation frameworks that will help you to successfully prioritise and manage your workflow as a founder or product person. The highly engaging session includes a mix of both theory and hands-on practice so that you'll walk away with the tools needed to put the learnings into action right away.
✨ Workshop Moderation ✨
Arielle specializes in innovation for new and established companies that have found themselves stuck in processes and patterns that are no longer working. She started her career as a designer and developer in the entertainment industry doing web products for blockbusters. She then worked with *OK Go* and *A**manda Palmer* to build and monetize their talent as digital-led artists. Next up was leading the product department at *Sierra Club*, the US's largest environment non-profit (founded 1892, 1+ million members). Tackling the online presence of their magazine to campaign tools(and everything in between), Arielle won a *Webby Honoree Award* for one of her products. After a stint on *Mozilla*'s Open Innovation team, Arielle joined *Small Improvements* as CPO and then cofounded Dado, to further innovate HRtech and the future of work.
Emmi is a passionate and empathetic Product leader that has worked most of her Product management career at *DeliveryHero*, a food delivery company in hyper growth. Here she worked with every angle of the company's products, leading agile teams, migrating platforms and building product community. Emmi recently joined *Care.com* where she leads Product for all non-US markets. With Ronja she shares one startup journey where they wanted to build a game to build better habits. Emmi has an academic background in Political Science & Business Administration and has previously worked with project management & business development in the digital tech space. Emmi specializes in building performing and happy teams by providing clarity, vision and strategy as well as by understanding each individual's motivations and strengths.
Ronja is a gaming industry veteran with long term hands-on experience in early stage startups in the gaming, fintech and health & fitness space. Having gained over 8 years of experience from the gaming industry, working with companies like *King.com* and *Mail.ru* she founded her first startup in 2013. Two killed startups and one maternity leave later, she's been freelancing as a product leader professional, helping fast paced fintech companies with product conceptualization and strategy. She's currently CPO at *Neo MENA technologies*, a fintech company in the MENA region. Her passion is applying her deep experience in getting a new product up and running by helping teams come together to address early stage problems like shifting product strategy, building and scaling complex backend systems and tying it all together for users. [LinkedIn]()
**This masterclass will be recorded and the content and resources will be released afterwards.
---
The Berlin Founders Fund is financed through funds from the European Union (European Social Fund) and the State of Berlin.
See you there! 💚