Workshop: Present Like A Rockstar

Wednesday, October 24, 2012 from 6:00 PM to 8:00 PM (EDT)
Event Details
In this Meetup Workshop, members will:
1) Gain at least 3 tools to present with confidence and clarity
2) Be able to name 3 ways that improv helps public speaking/presentations
3) Learn how say "YES" to any idea
4) Takeaway at least 2 fun team building exercises
5) Be able to identify at least 3 strengths and 3 challenges they have with public speaking
Through group games and individual exercises, we will apply basic theater techniques to public speaking situations to improve confidence, presence, eye contact, body language, diction, projection and more. Every person comes with different experience and growing edges so this workshop will be tailored to having fun as we face our challenges with public speaking. Rather than learning how to give a speech the "right" way, the focus will be on learning to enjoy being in the spotlight and communicating your message in ways that are fun for you and therefore fun for your audience!
Facilitated by Taren Sterry: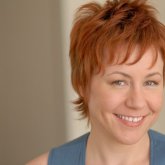 More info at www.tarensterry.com
Workshop: Present Like A Rockstar