Workshop-Positive Leadership: Mindfulness-Based Strategic Awareness Trainin...
Description
We would like to invite you to an workshop specially designed for senior executives and top management executives who want to learn more about a new model of strategic management and leadership for business and personal life. The topic is Positive Leadership: Mindfulness-Based Strategic Awareness Training and the session will be led by internationally-recognized IE Professor Dr. Juan Humberto Young, Ph.D.
ABOUT THE TALK:
The integration of scientifically grounded Positive Psychology and secular practices of the ancient tradition of Mindfulness has forged a new model of leadership for already successful executives who seek to refresh their perspectives and optimize their personal performance, the performance of their teams, and the bottom-line results of their organizations. Mindful positive leaders create authentic value in all functional areas of management such as marketing, strategy, finance and information technology and develop constructive, sustainable solutions that benefit a wide range of stakeholders.
Based on over 30 years of professional experience Dr. Young has found that the most transformative leadership training is to invite individuals to examine their lives and present them an integrated approach to achieve more clarity so that they can discern what is truly important to them and how best to work towards their true valued goals. The Mindfulness-Based Strategic Awareness Training (MBSAT) is one such integrated approach. In addition to Mindfulness and Positive Psychology it draws on the latest insights in Strategic Management, Behavioral Finance, Systems Dynamics and Risk Management amongst other disciplines.
At the core of MBSAT are new research findings in Positive Psychology, Contemplative Sciences (Mindfulness) and Neurology that help us better understand human behavior and mental patterns. This has allowed developing the MBSAT training methodology that generates integrative benefits on several levels: cognitive, emotional and physical. Only when all three components are in balance can we human beings really flourish and achieve the highest levels of wellbeing and performance.
This workshop will give you an introduction to the MBSAT training methodology.
ABOUT THE SPEAKER:
Juan Humberto Young, Ph.D.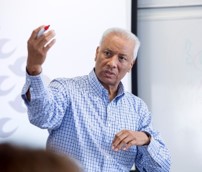 Dr. Young is one of the pioneers in designing and delivering services that integrate Mindfulness and Positive Psychology to functional areas of management. He has served as Senior VP at UBS, as Senior Manager of Strategic Management Practices for Latin America at KPMG and CFO in industrial companies. Until two years ago he was president and major shareholder of the largest electro engineering design company in Zurich, Switzerland. Furthermore, he has worked as positive organizational and strategic consultant to companies in banking, health care, engineering, energy and various other areas including public institutions.
In the Executive Master in Positive Leadership and Strategy program at IE, one of the world's leading educational institutions, Dr. Young introduces participants to The Mindfulness-Based Strategic Awareness Training (MBSAT) and teaches the class on Strategy, Risk and Finance.
Dr. Young will also be participating also in the 5th World Congress on Positive Psychology that will take place in Montreal on July 13 presenting: "Strategic Awareness Training for more Wellbeing in the Workplace and in Life".