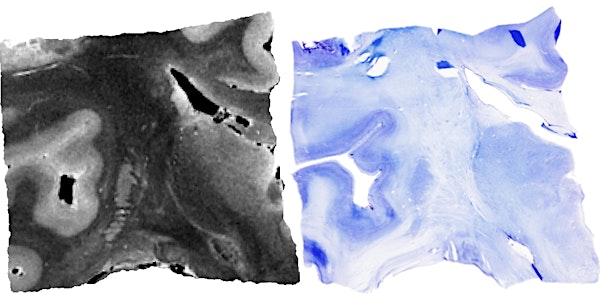 Workshop on Digital Histology Reconstruction
Location
Roberts Building room G06
Torrington Place
London
WC1E 7JE
United Kingdom
Description
Welcome to the First International Workshop on Digital Histology Reconstruction!
Program - updated on June 9th; added Paul Yushkevich (UPenn to list of speakers)
8.00-8.30am: Registration and coffee (foyer of Roberts building)
8.30-8.40am: Welcome (room Roberts G06).
8.40-9.30am: Keynote I, Martin Groher (MicroDimensions LLC, Munich). Whole Slide Volume Creation: 3D Reconstruction of Histology Section Images.
9.30-10.00am: Nasir Rajpoot (Warwick). Computational Pathology: Challenges and Opportunities.
10.00-10.30am: Alain Pitiot (Ilixa LLC, Nottingham). Registering histology (sparse and dense) and MRI.
10.30-11.00am: Coffee break (foyer of Roberts building)
11.00-11.30am: Ricardo Insausti (UCLM, Spain). Anatomical basis of an exhaustive thalamic segmentation for FreeSurfer.
11.30-12.00pm: Juan Eugenio Iglesias (UCL). Building probabilistic atlases from ex vivo modalities for in vivo image segmentation.
12.00-12.30pm: Sebastian Bludau (Jülich, Germany). Cytoarchitectonic maps in high resolution reference spaces.
12.30-1.30pm: Lunch (foyer of Roberts building)
1.30-2.20pm: Keynote II, Karla Miller (Oxford). Title: Linking MRI to microscopy in the human brain.
2.20-2.50pm: Paul Yushkevich (UPenn, USA). Computational Methods for Building a Probabilistic Atlas of the Hippocampus from Ex Vivo MRI and Serial Histology.
2.50-3.20pm: Laura Wisse (UPenn, USA). Alzheimer's disease and age-related effects on hippocampal morphometry: novel insights from an ex vivo atlas combining MRI and histology.
3.20-3.40pm: Coffee break (room G06)
3.40-4.10pm: Eric Bardinet (CNRS, France). Deformable sub-cortical brain atlases for Deep Brain Stimulation.
4.10-4.40pm: Laura Panagiotaki (UCL). Validation of VERDICT MRI using personalised 3D-printed molds for histological alignment.
4.40-5.00pm: Discussion: future directions.
5-6.30pm: Reception (Front Suite 104, Roberts building).