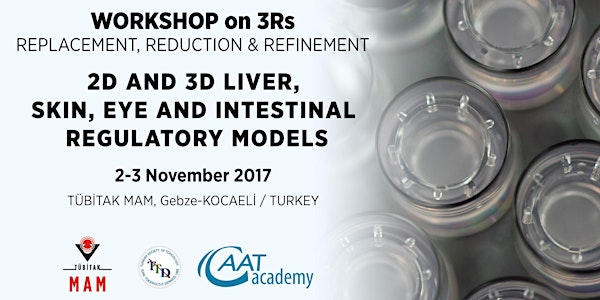 Workshop on 3Rs & 2D and 3D Liver, Skin, Eye and Intestinal Regulatory Models
When and where
Location
TUBITAK MAM Conference Hall Gebze, Kocaeli 41470 Turkey
Description
The workshop will overview strategies and practical aspects of 3Rs (Replacement, Reduction and Refinement) which promotes alternative tools to minimize unnecessary suffering of laboratory animals. The programme includes presentations of invited experts as well as practical laboratory demonstrations of alternative in vitro models and techniques. Participants will learn about 3R implementation in Europe and Turkey, in both academic and industrial research labs. Practical demonstrations will specifically focus on 2D and 3D liver (Biopredic International), 3D skin model (EpiSkin), 3D EpiOccular & EpiIntestinal (MatTek IVLSL) in vitro models. The target audience include experimental biologists, pharmacologists and toxicologists, life sciences researchers and students at all levels of expertise.
Registration should be completed until 16.10.2017
---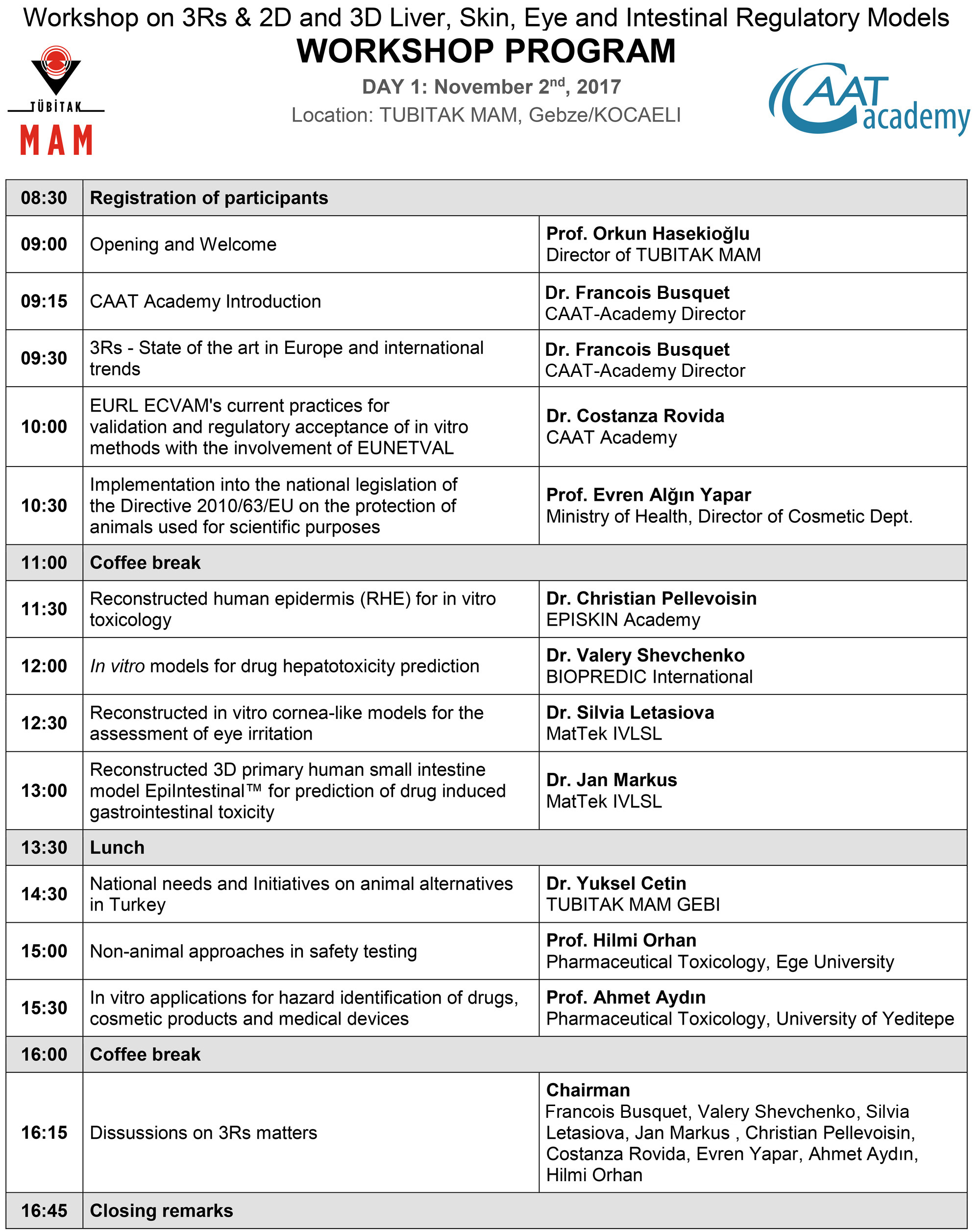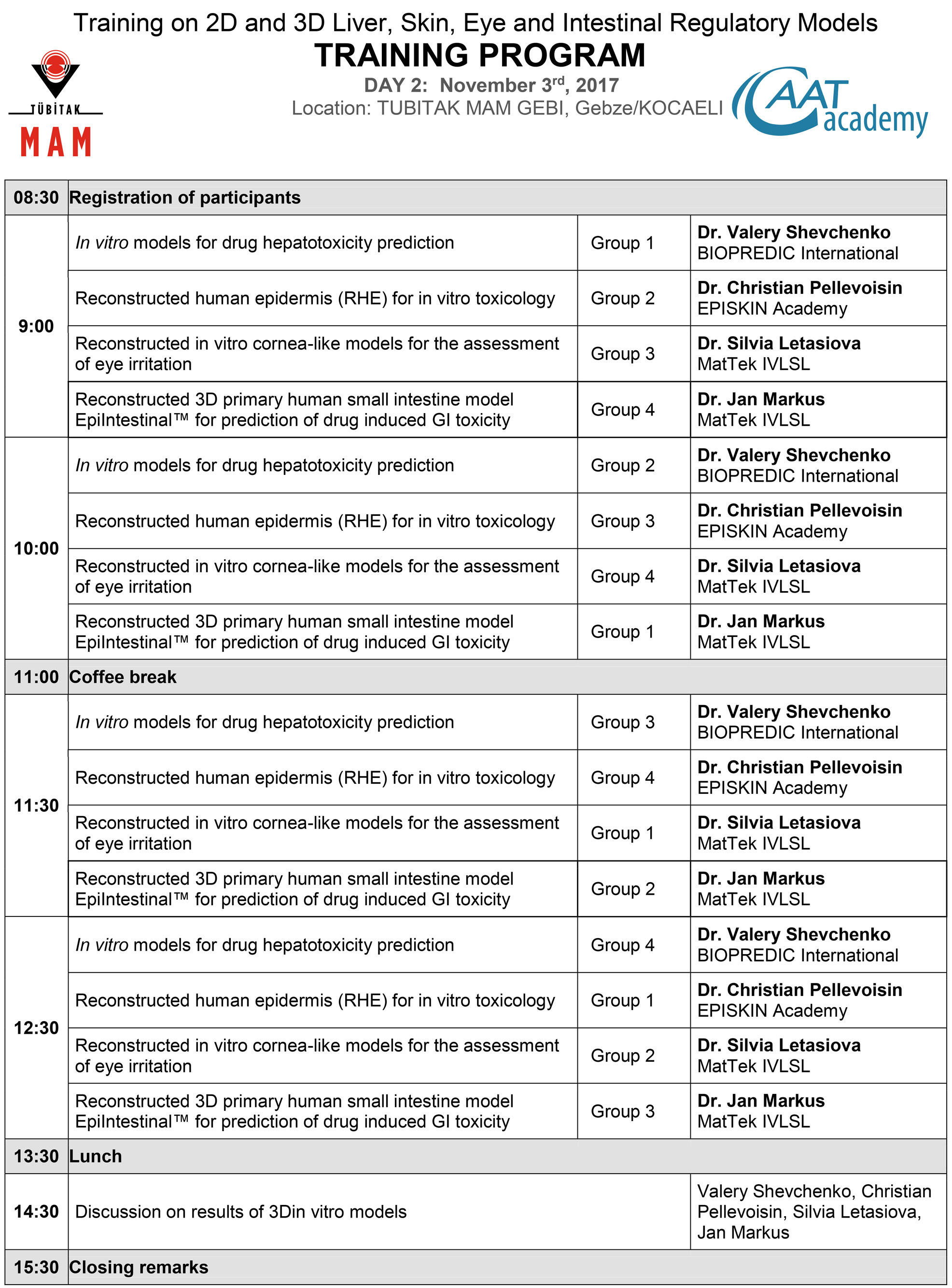 1st Day (Workshop): Only registration is required. First 100 person will be accepted
2nd Day (Training): Registration Fee Required: 500 TL. First 24 person will be accepted.
Account Information for Payment :
TÜBİTAK MARMARA ARAŞTIRMA MERKEZİ
T.C.ZİRAAT BANKASI
TR190001002085347543977543 (Turkish Lira, TL)
Please send the confirmation of your payment via e-mail to zelal.adiguzel@tubitak.gov.tr and yasemin.yildizhan@tubitak.gov.tr.
Registration without payment will not be accepted!

---
ACCOMODATION:
TUBITAK TUSSIDE Facility
TUBITAK Gebze Campus
Gebze / Kocaeli
Tel: +90 (262) 641 50 10, Fax: (262) 641 50 19
E-mail: tusside@tubitak.gov.tr
http://tusside.tubitak.gov.tr/en/About-us/Facilities

---
OLD CASTLE HOTEL 4*
Eskihisar - Gebze / Kocaeli
Tel: +90 (262) 656 23 00, Fax: +90 (262) 656 23 23
E-mail: info@oldcastlehotel.com
www.oldcastlehotel.com
---
CEVAHIR HOTEL ISTANBUL ASIA 5*
Yalı Mahallesi, Turgut Özal Blv. No:261
34844 Maltepe / Istanbul
Tel: +90 (216) 500 00 00, Fax: +90 (216) 500 00 55
E-mail: info@cevahirhotelasia.com.tr
www.cevahirhotelasia.com.tr/en/