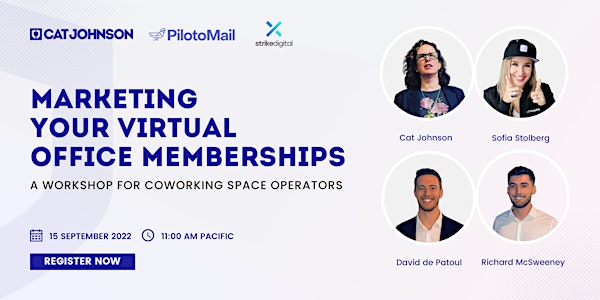 Workshop: Marketing Your Virtual Office Memberships
In this free workshop, we'll tackle marketing your virtual offerings, generating revenue, and attracting virtual members
About this event
Marketing Your Virtual Office Memberships
A workshop for coworking space operators
Virtual office memberships can be a strong and steady source of revenue and quality leads for your coworking space.
If you position and market them properly.
In this free workshop, you'll learn:
* Why you should market your virtual memberships yourself
* How to generate revenue (or more revenue) with virtual office offerings
* Using paid ads to market your virtual offerings
* Using content to attract virtual members
Join industry-leading content strategist Cat Johnson from Cat Johnson Co; PilotoMail co-founder, CEO and coworking powerhouse, Sofia Stolberg; and David de Patoul and Richard McSweeney from award winning marketing agency Strike Digital.