Workshop: Leveraging Social Media for Nonprofits
Description
Join us on Tuesday, October 24 and Learn about Leveraging Social Media for Nonprofits!
Explore different ways to use analytics and social media to build your brand, promote your organization, and effectively reach your target audience.
Full participation in the Leveraging Social Media for Nonprofits workshop is applicable for 2 points in Category 1.B – Education of the CFRE International application for initial certification and/or recertification.
About the Instructor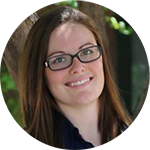 As Marketing and Business Development Coordinator for Maricopa Corporate College/the Sanford Institute of Philanthropy, Alex Coleman uses the latest inbound marketing strategies to connect Arizona businesses with impactful training opportunities. With a bachelor's in journalism and a master's in mass communication from the Walter Cronkite School of Journalism at Arizona State University, she brings an array of experience in social media, public relations, and nonprofits. Alex also holds a minor in United States History and a certificate in Nonprofit Leadership and Management.