Workshop: LEED AP BD+C Exam Prep - Sacramento - USGBC Northern California
Description
Our full-day exam prep workshop is designed to prepare you to pass the LEED BD+C exam with confidence, earning the widely recognized LEED Accredited Professional credential. The workshop will focus on the key information necessary to pass the LEED AP BD+C exam, including:
LEED Project and Team Coordination

LEED Certification Process

Analyses Required for LEED Credits

Advocacy and Education for Adoption for LEED Rating System

LEED Process

Integrative Strategies

Location & Transportation

Sustainable Sites

Water Efficiency

Energy & Atmosphere

Materials & Resources

Indoor Environmental Qualify

Project Surroundings and Public Outreach
In addition to delivering the material in a clear and concise format, this workshop presents the types of questions that are asked on the exam so you know what and how to study. We review example scenarios from real world projects to help you better understand and remember the material while giving you an opportunity to put the concepts to practice.
One of the best ways to prepare for any test is to work through sample questions. Our workshops conclude with an in-class practice exam and a take-home exam that accurately reflect the types of questions you'll see on the test. Included as part of the training, participants receive a comprehensive Study Guide that covers all of the important material and allows you to follow the outline of the course.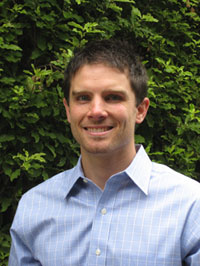 Alex has consulted on over 100 diverse green building projects with high profile clients such as Google, Salesforce, Skype, GoPro and the Wharton School of Business among others. His project achievements include the first LEED Platinum Major Renovation project on the west coast, the first LEED CI Platinum project in California and one of the first projects in the Bay Area to attempt WELL Certification. Alex has taught over 300 green building workshops across the globe through organizations such as the US Green Building Council (USGBC), American Institute of Architects (AIA), Sustainable Building Advisors Program and the Stanford Graduate School of Business to name a few. He has also developed curriculum for UC Berkeley where he teaches a 6-week Green Building Project Management course.
Alex serves on the WELL AP Standard Setting Committee where he helped to develop the score setting guidelines for the WELL AP exam. He is a LEED Accredited Professional with specialties in BD+C, ID+C & EBOM, USGBC Chapter Faculty, a Certified Green Building Professional, a Continuing Education Provider, HERS Rater and holds a B.S. in Civil Engineering from UCLA.
---
The U.S. Green Building Council - Northern California educates, inspires, and provides resources for industry transformation to build and maintain sustainable communities. USGBC Northern California chapter membership provides you with the latest innovative learning opportunities, a variety of ways to engage in green building activities in the region, and a valuable professional network of forward-thinking individuals.