About this Event
▶ NL
Componist Jeroen D'hoe neemt enkele klassiekers uit het Great American Songbook onder handen, en maakt er bewerkingen van voor het Vlaams Radiokoor. Tijdens deze workshop neemt hij die bewerkingen een eerste keer door, samen met de zangers van het koor – die hun feedback kunnen geven, zodat Jeroen er verder mee aan de slag kan.
▶ ENG
During this workshop, composer Jeroen D'hoe runs through his arrangements of some of the greatest classics in the Great American Songbook, along with the singers of the Vlaams Radiokoor – who can give Jeroen feedback to enable him to continue working on them.
▶ FR
Au cours de cet atelier, Jeroen D'hoe parcourt une première fois ces arrangements avec les chanteurs du Vlaams Radiokoor, qui sont invités à lui donner leur feed-back pour qu'il puisse poursuivre le travail en conséquence.
met: Jeroen D'hoe (componist), Vlaams Radiokoor & Bart Van Reyn (dirigent)
workshop in het Nederlands
voor amateurkoren (zangers & dirigenten) / componisten / arrangeurs / liefhebbers
reservatie verplicht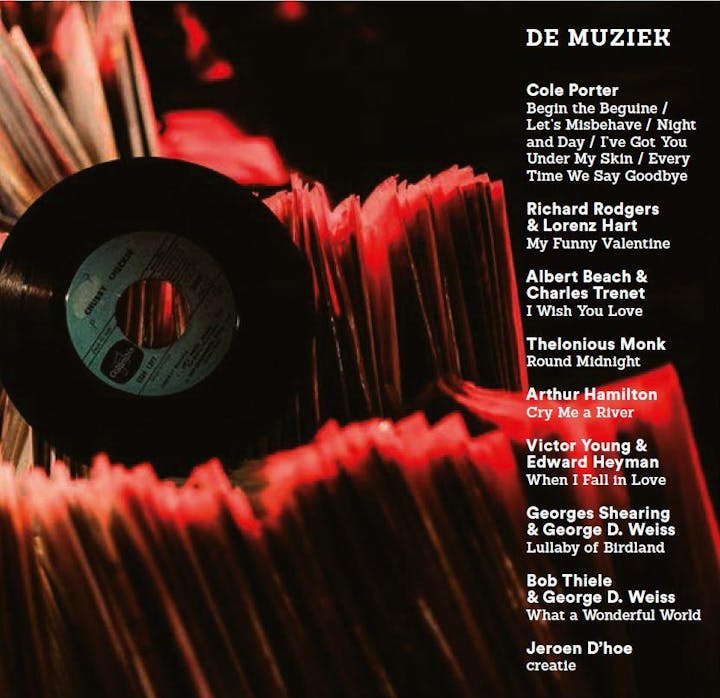 JEROEN D'HOE OVER JAZZ & HARMONIE
Als er iemand is die de iconische werken uit het Great American Songbook in een nieuw vocaal jasje kan steken, dan is het componist en jazzliefhebber Jeroen D'hoe. "Mijn liefde voor jazz is met de paplepel ingegeven: het is repertoire waarmee ik ben opgegroeid, en ik heb zelf jaren jazz gespeeld als contrabassist!"
De namen die verzameld zijn in The Great American Songbook doen duizelen: Cole Porter, Rodgers & Hart, Gershwin, maar ook Bernstein en Sondheim. Wat is het dat hun werk in het Songbook verenigt? "Voor mij gaat het om twee elementen: de muziek spreekt direct aan, blijft ook meteen hangen. Als je een nummer één keer hoort vergeet je het nooit meer – net omdat de werken simpel maar uniek zijn. Een tweede element is het ongelooflijk hoogstaande vakmanschap. Je zou het haast vergeten, maar deze werken zijn stuk voor stuk compositorische hoogstandjes. Ook al duren ze maar twee minuten, het zijn mini-meesterwerken – elke noot staat perfect, de opbouw is als een klassiek meesterwerk."
Een uitdaging dus om met deze parels (die in ieders geheugen gegrift staan!) aan de slag te gaan, en nieuwe arrangementen te maken voor het Vlaams Radiokoor. "Dit soort projecten is een constante voor mij, het zijn havens waarnaar ik om de zoveel tijd terugkeer. Enkele jaren geleden was dat bijvoorbeeld 'It's a gas', met nieuwe songs die ik als eerbetoon aan de grote meesters schreef samen met Paul Michiels. Nu is het deze selectie voor het Radiokoor: een inspirerende uitnodiging om op mijn manier de klassiekers meerstemmig te benaderen. En ook al zal het met het grootste respect zijn, ik zal er toch mijn eigen toets aan geven!"
VLAAMS RADIOKOOR ATELIER
Tous ensemble, daar geloven we in. Want het Radiokoor is ook en vooral een levend portaal voor repertoire, kennis, ervaring en stemmen. Het maakt ons vocaal erfgoed toegankelijk voor zangers en publiek, en investeert tegelijk in de creatie van nieuw stemwerk. Stap binnen in ons atelier, met workshops en masterclasses, coaching en stages, samenzang en open repetities.
Ontdek al onze atelier-projecten
Bezoek de website van het Vlaams Radiokoor