Description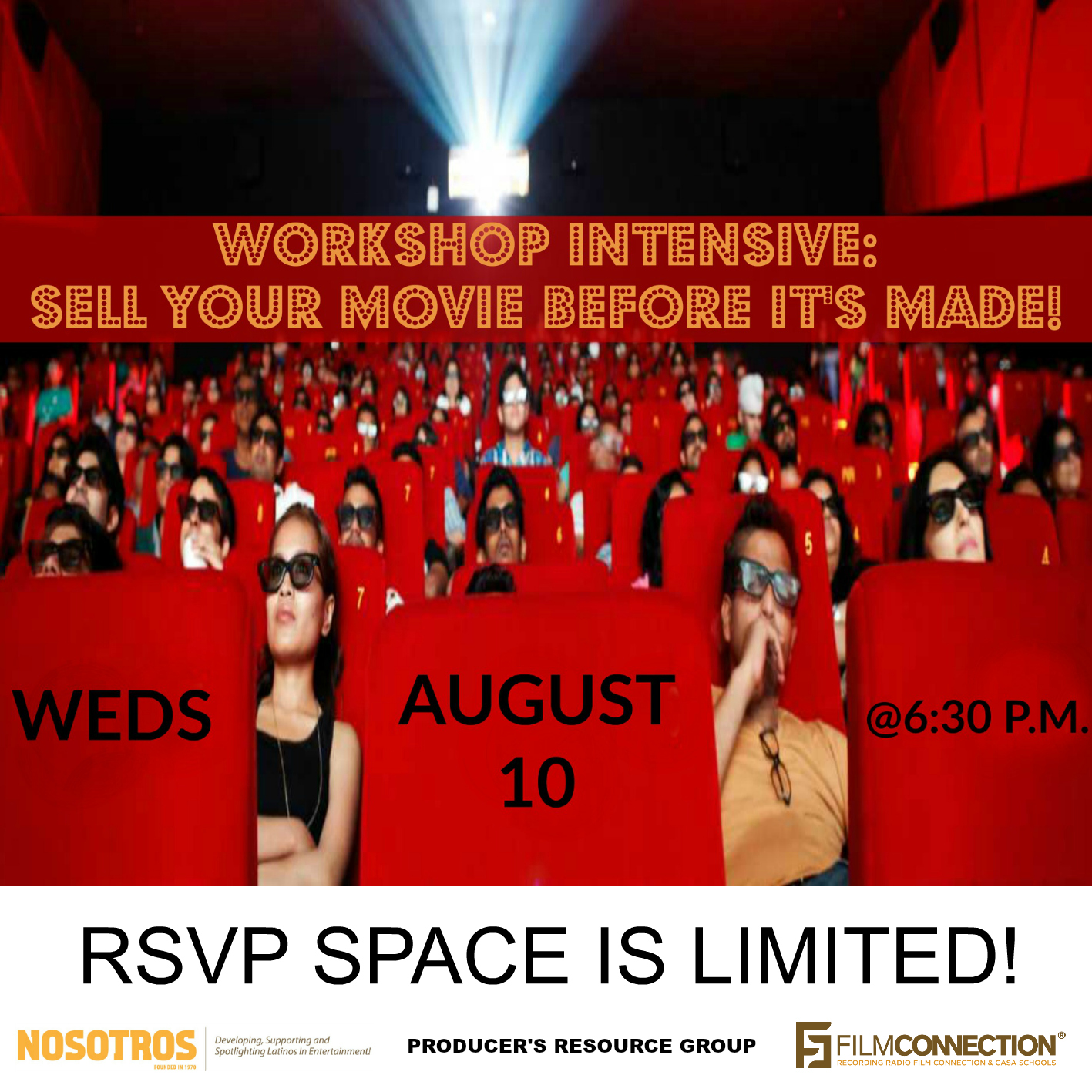 :: Filmmakers, Producer, Directors, and Content Creators ::
This is a rare opportunity for you to join the first of (5) WORKSHOP INTENSIVES that covers the true "ins and outs" of what it takes to make a project with the end (sales) in mind -- FROM THE PEOPLE THAT ACTUALLY DO THE BUYING!
The Intensive Workshop was designed NOT to be another boring panel discussion filled with unrelated business and financial discussions. A large portion of the seminar will be dedicated to answering questions from YOU!
There is a huge demand for content, but only a few filmmakers have learned how to profit from that demand.

So be it with 10k or 300k - You'll learn how to maximize your budget to increase your chances of selling your film by filmmakers that have done just that. You'll get an understanding how all of the different roles fit together: distributors, sales agents, producer's reps, acquisitions, aggregators, film festivals, and film markets like the American Film Market (AFM).
*** Please note: The workshop will concluded with a 30-minute mixer where you can mix & mingle with the speakers and executives from companies such as (+) Entertainment, Mucho Mas Media, Cinetel Films and Cinedigm Pictures as well as other filmmakers - so bring your business cards and have your pitch ready! ***
Who should attend: Producers, Filmmakers making their first feature film, anyone involved in low-budget filmmaking or anyone with a film ready to sell!

Requirements: Something to take notes with and plenty of questions.

By the end of this Workshop, you will know:
How to maximize your ultra low budget.

How movies are valued and distributed .

How to put together a realistic strategy to get the best distribution.

* A detailed workshop description is listed below *
About the Lead Speaker:
Pejman Partiyeli, founder and President of +Entertainment, handles the day-to-day operations and oversees all aspects of development, marketing and distribution. Pejman has also been an instructor at the Los Angeles Film School where he initiated the course Motion Picture Marketing and Distribution. Pejman actively participates in industry panels and seminars and has been the featured speaker of "Recent Trends in Motion Picture Marketing & Distribution" presented by Lord, Bissell & Brook LLP's Entertainment and Media Practices Group.
+Entertainment is a producer and international distributor of motion picture and television programming. +Entertainment's activities in distribution include commercial genre films such as "Death Tunnel" (Sony Pictures), and the original Syfy production "Dead Still" which premiered this past October.
In addition to its sales, marketing and producing activities, +Entertainment has provided product placement and integration services. It successfully integrated products such as Pony Shoes, XOXO footwear, Patron Tequila, FHM Magazine among others into the 2005 Sundance entry "Dirty Love", starring Jenny McCarthy and Carmen Electra. In the development arena, +Entertainment provides script evaluation from an international sales perspective, as quoted in THE SCREENWRITER'S SOURCEBOOK – A Comprehensive Marketing Guide for Screen and Television Writers (Michael Haddad, Chicago Review Press). Additional information regarding +Entertainment can be found at www.plusent.com.
:: DETAILED DESCRIPTION ::
This workshop intensive will cover strategies for marketing and selling your film such as prioritizing release windows (domestic, foreign, DVD, VOD, etc.), self-distribution, hiring sales agents, festival premieres, four-walling, foreign pre-sales and more. By understanding how the process works, you will understand how various strategies affect your future income streams. Here is an outline of the topices to be covered:
#1: General concepts in distribution of motion pictures
-Introductory remarks and instructor's background-students to discuss their goals
-General introduction of motion picture marketing and distribution
#2: Maximizing your ultra low budget
- Partnering with a sales agent / distributor early on
- The 10k feature film - yes it's still possible!
- Where to find the funding
#3: General concepts in distribution of motion pictures
-Introductory remarks and instructor's background-students to discuss their goals
-General introduction of motion picture marketing and distribution
#4: The business aspect of film distribution
-The difference between commercial films and films relegated to art-house status
-Making films as a filmmaker vs. making films as a producer
-Analysis of current trade magazine articles regarding the business aspect
#5: Key players in the Distribution spectrum and their roles
-Releasing Company; Studio
-Sales Agent; Producer's representative
-Attorney; Publicist
#6: Distribution thoughts during development and pre-production and physical production
-Genre
-Script
-Production budget
-Casting
-Location
-Product placement/integration; and Branded Entertainment
#7: Distribution thoughts during financing
-Filmmakers motivations
-Executive Producers/Investors (motivations and concerns)
-Recoupable production budget
-Tax incentives and foreign co-productions
#8: Properly marketing a motion picture for distribution and exploitation
-Do's and Don'ts
-Artwork
-Trailers
-Creating buzz (P.R. campaign, marketing)
-Festivals, industry screenings, premieres
-Studio P&A commitments
-Delivery requirements
#9: Choosing the right Distribution level and considering the basics
-The company (risk taker, risk averse or the path of least resistance)
-Scope of representation
-Territory; term of representation
-Fees
-Prints & Advertising (P&A)
-Film markets/festivals costs, recoupment
-Future films; multi-picture relationships; output deals