Workshop: How To Become a Citizen Ninja - San Bernardino Inland Empire Area

Saturday, July 19, 2014 from 8:30 AM to 3:30 PM (PDT)
Event Details
Civic Knowledge       Self-Restraint      Self-Assertion      Self-Reliance
The framers of our Constitution knew that to preserve our blessings of liberty, the Republic would require self-governing citizens.
We base all our experiments on the capacity of mankind for self-government.  ~James Madison
-Do you worry about being marginalized if you express your opinion in public?
 -Have you been bullied in a public forum or town hall meeting?
 -Do you wonder if civil discourse is even possible?
How to Become a Citizen NinjaTM is a workshop designed for conservative Americans who recognize they have a duty to engage in the civic process but are unsure how to go about it or are fearful of bully tactics being used against them.
"Learn how to sideline your fears! This workshop will teach you how to exercise your civic responsibility in the public arena effectively and with confidence." ~Mary Baker, Workshop Leader
$35 Registration Cost Includes

     Training Manual     Warrior Vittles         Bragging Rights
Workshop Leader: Mary Baker 
Mary is a graduate of Middlebury College and acting President of the San Diego/Orange County Chapter of the non-profit organization, CAPR. Mary is a grassroots activist and blogger who researches and writes articles and opinions on the impacts of sustainable development on property rights and our nation's sovereignty. Mary is a guest speaker throughout the Southern California region. Her blog is Exurbia Chronicles. 
Testimonials
"This is sorely needed! So many Americans have no idea of how we are being manipulated and used." 
"I wish I had brought people with me! I'm very encouraged to be more active in my community. Thank you!!!" 
"I am so glad for the 'action oriented' attitude of the class. Thank you so much." 
Day of the Event
~Check-in opens at 8:30 am. The workshop will begin promptly at 9:00 am.
~Continental Breakfast Buffet and Lunch is included.
~Refreshments include coffee and water.
~There will be books and T-Shirts available for sale at the completion of the workshop.
Important Notice
~Tickets are non-refundable but are transferable. Please contact Mary Baker at info@caprsdoc.org prior to the event to make any name changes on the reservation. 
When & Where

Mill Creek Restaurant
1874 Mentone Boulevard
Mentone, CA 92359


Saturday, July 19, 2014 from 8:30 AM to 3:30 PM (PDT)
Add to my calendar
Organizer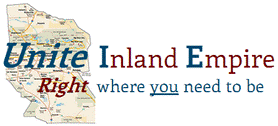 Unite IE gathers concerned citizens from the Inland Emire region and throughout Southern California who are committed to restoring freedom from the bottom up. This year, Unite IE is focusing on "Protecting the American Dream." The theme was selected as a wake up call that California is not lost to conservative priniciples and to encourage people to get in the game and get involved. 
On May 17, 2014, Unite IE held its 1st-annual Conservative Conference at the Fox Performing Arts Center in Riverside. The conference featured nationally respected speakers such as  Dinesh D'Souza and Ann Coulter.
Contact us: http://www.uniteie.com/

Get informed and get active!

We stand for fiscal responsibility, Constitutionally limited government, and free-market principles.

We are a non-partisan grassroots organization formed in response to expanding federal government. We stand for the republic - by the people, for the people. We want to educate and activate all citizens to become involved in local government in order to make positive changes. 

We are dedicated to preserving freedom, liberty, opportunity and traditional American values.
Website: http://redlandsteaparty.net/rtp/