This workshop will give you hands-on practice applying systems thinking to leverage feedback and emergent behaviour in a regulatory context.
About this event
Modern regulators are expected to manage an increasing range of risks, respond to complex factors, and contribute to the stewardship of the regulatory system. Systems thinking offers concepts and tools to help understand and manage complexity.
What will you learn?
This workshop will introduce you to basic systems thinking concepts. You will be guided through three different systems thinking activities: 1) Rich Pictures; 2) Causal Loop Diagrams and 3) System Archetypes. These activities will include examples of the systems thinking tools applied to the drinking-water regulatory system.
By the end of the workshop you should:
Increase your understanding of systems thinking
Be able to apply systems thinking to regulation
Identify feedback loops in regulation
Appreciate emergent behaviours in regulation
Who should attend?
System thinking encourages holistic perspective, so this workshop might suit are range of people involved in regulatory systems, including, but not limited to:
Regulatory practitioners
Compliance officers
Regulatory managers
Policy analysts
Regulated parties
Consultants working in regulation
Your understanding of the risks, regulated parties and monitoring within a regulatory system will be important for your participation in the interactive activities.
Applicants may be prioritised to allows groups for different regulatory systems.
What is expected from you?
This workshop is part of a research project exploring how systems thinking tools might be practically applied to improve regulation. You will evaluate three systems thinking tools through hands-on activities designed to apply them to the context and challenges of regulation.
As part of this research, you will be required to complete a consent form, along with a brief pre- and post-workshop questionnaire to contribute. You may be asked to participate in a follow-up interview. You will not be personally identified in the research and will have the opportunity to request any of your contributions be excluded.
Who will lead this workshop?
This course will be lead by Michael Howden, as part of a research project with the Victoria University of Wellington School of Government. Michael Howden has a background in delivering digital solutions for government and non-government agencies and ten years of experience delivering interactive trainings and workshops throughout the Asia Pacific. He currently works as a consultant and has provided support and advice to agencies involved in the drinking-water regulation.
COVID Contingency
This is an interactive workshop that can only be held under Level 1. In the Case Wellington is not at Level 1, the workshop content will be delivered through a one hour webinar.
System Thinking Examples from the workshop
Rich Picture of the Drinking-Water Regulatory System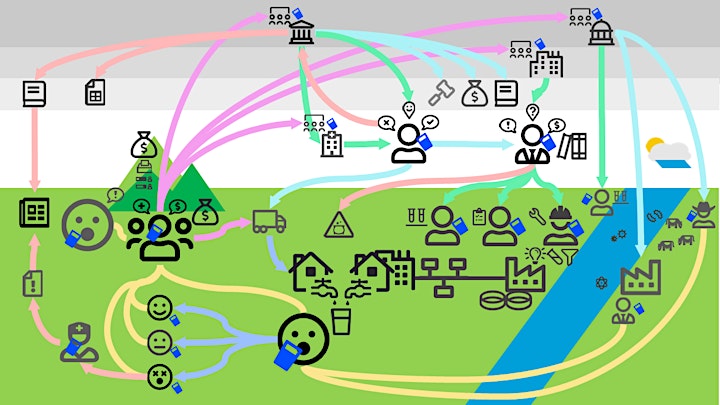 Causal Loop Diagram of the Drinking-Water Regulatory System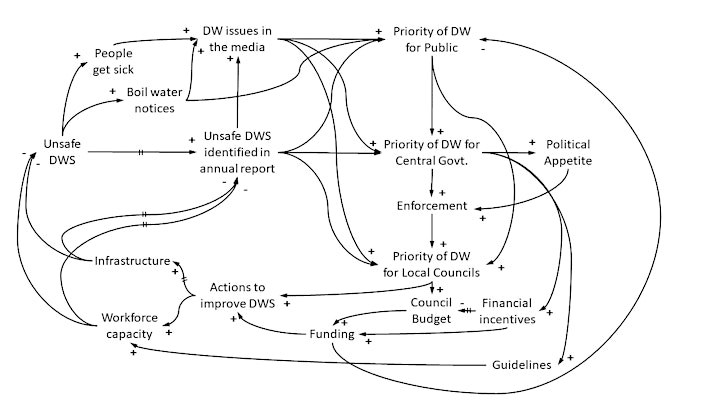 Time Behaviour Charts for System Archetypes