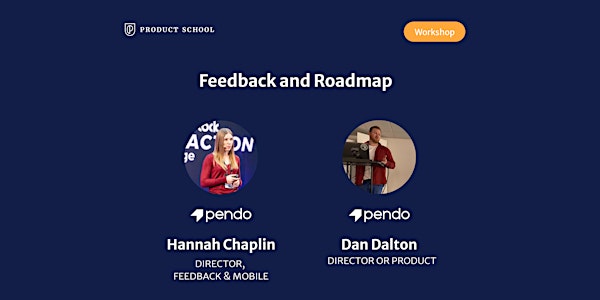 Workshop: Feedback and Roadmap with Pendo Product Leaders
DISCLAIMER: This event is ONLINE The instructions to join will be sent to all registered attendees via email shortly before the event.
About this event
Customer feedback is vital to any successful software product—product teams should always strive to understand and incorporate the voice of the customer in everything they build. But this is especially important for product-led organizations, where everything the company does revolves around the customer. By creating a product feedback policy, your team will have a standard process to follow to gather and manage feedback from customers, ensuring customers have a voice as you evolve your product. In this exercise, you'll determine how you'll manage and weigh customer feedback; and create a document you can share internally and/or externally to explain the process you'll follow.

Hannah is a focused and efficient leader who brings intelligence and creative thinking along with a positive attitude to her work. She is currently the Director of Feedback and Mobile at Pendo.

Dan is a relentlessly enthusiastic product leader who loves to share his incredible talents as a speaker and coach to future product leaders. He is currently lending his skills to Pendo as Director of Product Management.
Get the FREE Product Book and check out our curated list of free Product Management resources here

Product School is the global leader in Product Management training with a community of over one million product professionals. Our certificates are the most industry-recognized credentials by employers hiring product managers. All of our instructors are senior-level Product Managers working at top Silicon Valley companies including Google, Facebook, Netflix, Airbnb, PayPal, Uber, and Amazon.
Disclaimer: by registering for this event I agree to receive email communications from Product School and all sponsor brands.