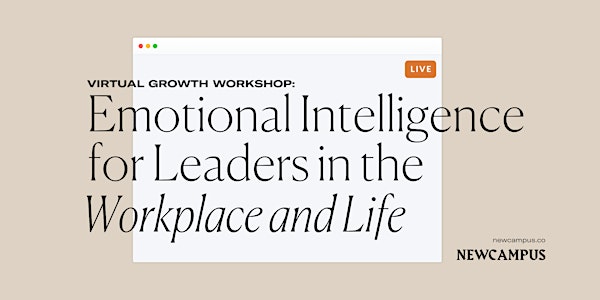 Workshop | Emotional Intelligence for Leaders in the Workplace and Life
Learn and apply emotional intelligence to make better and more thoughtful decisions as a business leader.
Refund Policy
Contact the organizer to request a refund.
Eventbrite's fee is nonrefundable.
About this event
You are invited to join us in an intimate self-awareness workshop by Tricia Grant, an ISEI Certified Social and Emotional Intelligence Professional Coach and Keynote Speaker.
COVID-19 Update: All NewCampus sessions will be conducted remotely via Zoom. A link will be sent upon confirmation.
This is not a webinar. All NewCampus remote workshops are live, interactive and energising 90 minute sprints dissecting a practical tool, framework or methodology. Small class sizes for an intimate and interactive experience. Always includes hands-on exercises to start applying the new skill immediately.
Community learning: Learn together with other curious professionals from around Asia (or the world), who will become your future collaborators, clients or co-founders, as part of your weekly routine.
Led by an expert: Our workshops are hosted by industry practitioners and thought leaders shaping their fields.
____________________________
TODAY'S WORKSHOP
Emotional intelligence (EQ) is one of the top 10 skills required for employees in 2020. EQ is a non-negotiable skill for businesses that grow well and scale fast. It is especially important in Asia where there is a higher tendency for emotions to be hidden beneath the surface of business interactions. A lack of EQ within a team results in poor decision-making, less productive teams, and missed business opportunities.
Having heightened emotional self-awareness and EQ for others will help you better lead your team, make better decisions and be better at developing others.
By the end of this class you will be able to:
Have a deep understanding of emotional intelligence and the 26 competencies of EQ.
Use the Johari window technique to help understand your emotional relationship with yourself and others.
Make accurate self-assessments to develop your EQ on your own.
Today's Speaker:
Tricia is a certified Emotional Intelligence Facilitator who has helped companies—such as Allied Health and Draper Startup House—to align their goals with real actions in order to achieve them.
____________________________
ABOUT NEWCAMPUS
NewCampus is a modern leadership school. We help rising execs, entrepreneurs and game-changers around Asia Pacific, take on the challenges of the unprecedented era ahead through skills, resources and community.
We host weekly business, tech and cultural events with industry leaders from companies like Grab, IDEO and Netflix. We also send a regular newsletter with curated business, tech and macro insights collected from our experts.
For more information, visit newcampus.co or follow @newcampushq.