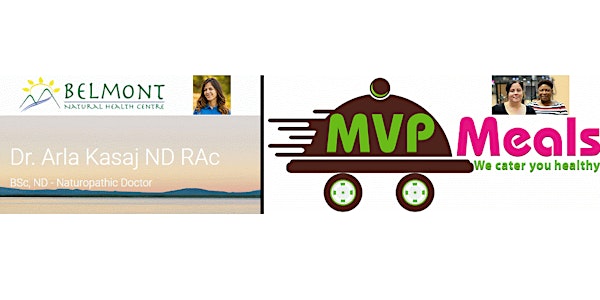 WORKSHOP: Eating Healthily, Naturopathic Treatment & Disability Supports
When and where
Location
School of Pharmacy University of Waterloo 10A Victoria Street South Room 1004 Kitchener, Ontario N2G 1C5 Canada
Description
Presentations will begin at 7:00 PM with our speakers:.
Amanda Case and Nicky Amos "We cater you healthy". MVP Meals deliver healthy, fresh, balanced and tasty meals that you can heat and eat. Every meal is carefully crafted with the combined expertise of a Chef and Nutritionist to ensure the meals are balanced, nutritious and full of flavor. All menu items are gluten free and can accommodate many dietary restrictions. Meals can be delivered or picked up. Enjoy Eating Healthy Stress Free!

Ken Nightingale will discuss Disability Supports - grants, savings plans, refundable expenses, tax credits and other assistance that you may be entitled to as a disabled person.

Dr. Arla Kasaj, ND RAc, has a background in Kinesiology and sport therapy which has allowed her to provide very effective treatments for pain management and rehabilitation from sport and workplace injuries. She prefers to use a variety of Naturopathic modalities when treating her patients including but not limited to nutritional and lifestyle counseling, botanical medicine, acupuncture, homeopathy, and hydrotherapy. She also has experience with treating a variety of conditions including heart disease, diabetes, arthritis, digestive concerns, and hormonal imbalance. She has a special interest in assisting patients with weight loss and establishing a healthy and balanced lifestyle.
Each presentation will be followed by audience questions.
SCENT FREE PLEASE – Please do not use scented products while attending this workshop, such as perfume, cologne and hair spray.
This is a free event that is open to the general public.
Parking at the School of Pharmacy will be provided at no charge to participants – please make sure you receive a "Parking Pass" from one of our parking attendants.
If you require a disabled parking spot, our parking attendants can guide you to the proper location.