Workshop: Bitcoin Cash Wallet Setup & Blockchain x Filming | Venture Cafe
Description
In collaboration with EOS Miami and BlokTech Network,
Miami Blockchain Society presents our monthly workshop: "Bitcoin Cash Wallet Setup and Blockchain in Filming". This April 18th (Thursday), join us at Venture Cafe to learn hands-on tutorial of setting up and using a bitcoin cash wallet on bitcoin.com and various other websites, followed by an indepth discussion about the filming industry's moves toward blockchain and cryptocurrency adoption and implementation.
All levels of expertise are welcomed - from beginner to intermediate to expert. Join apart of the fastest growing blockchain community in South Florida with professionals in all industries. More importantly, learn, share, and connect with other talented and curious individuals in the Miami area.
SCHEDULE*

7:00pm - Check-In / Registration / Networking
7:15pm - Bitcoin Cash Wallet Setup & Tutorial
7:35pm - Filming and Blockchain
9:00pm - Networking
*subject to change
CONTACT
For any inquiries including questions, concerns, or sponsorships, email miami@bloktech.network.
STAY CONNECTED
SPONSORS
This event is brought to you by EOS Miami and BlokTech Network.
DONATIONS
Miami Blockchain Society events are great because of members like you. To keep our events low-cost and free, we are constantly looking for collaborations, donations, and sponsorship opportunities to grow, maintain, and educate our membership base. See you all at our next event.
DISCLAIMER
At these events, we do not give out financial advice. It is best that you perform self-research before investing into anything including but not limited to cryptocurrencies.


---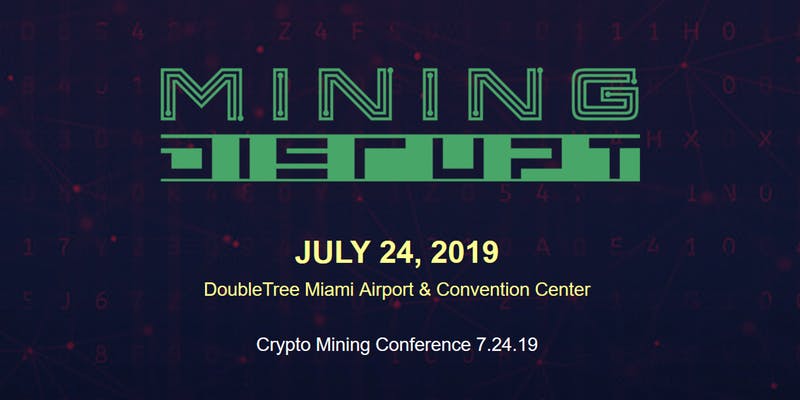 Meet the pioneers, the early believers, highly influential and established opinion leaders. MDC will welcome more than 1,000+ top experts, influencers, and strategists from across the world. These entrepreneurs, investors, builders, developers, industry enthusiasts, and global media will embark onto Miami for a two-day experience.
MDC organizes the premier digital asset event in the US on 23-24 July, 2019 in Miami, Florida, where we explore the mining and disruptive blockchain economy in-depth. We are shining a light on the global developments of this new asset class, while taking a unique and widening perspective on the mining and token industry and its opportunities.
Get your tickets at www.miningdisruptconference.eventbrite.com or join the discussion before the conference begins at www.t.me/MiningDisrupt.