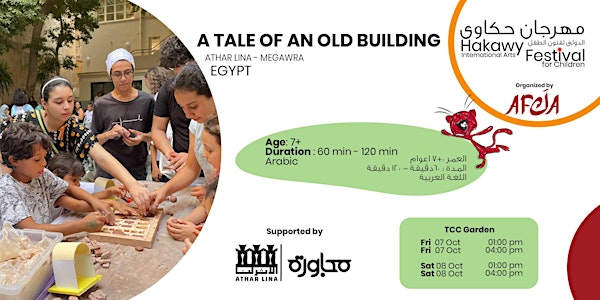 WORKSHOP: A tale of an old building- Athar Lina | Hakawy 2022
The workshop is based on the Athar Lina Initiative's interest in working on the existing built environment through restoration projects.
When and where
Location
AUC - Tahrir Cultural Center (Oriental Hall) El-Shaikh Rihan Ad Dawawin, Cairo Governorate 4280030 Egypt
About this event
The workshop aims to raise awareness of climate change issues by focusing on discussing the carbon footprint of buildings. The activity builds on the Athar Lina Initiative's interest in working on the existing built environment through restoration projects, urban development, heritage education, and heritage industries. The activity focuses on differentiating between traditional and modern construction in terms of form, structural functionality, building techniques and materials, and linking this to environmental impact. The activity is divided into three phases, namely:
- Get to know the Setting (Caliphate map activity)The participants are exposed to the experience of wandering in Historic Cairo and its various buildings in the construction treatments and consequently the environmental impact by coloring a large coloring map of Al-Khalifa neighborhood showing the building old & new and details of daily life in the same drawing
- Build Lajeen Dome (Building with Paper )
The participants get to know the history of the Ahmed Ibn Tulun Mosque, the oldest standing mosque in Egypt and the story of the construction of the Lajeen dome and its function, and the environmental analysis of the Ibn Tulun Mosque. Participants begin to learn about the structure of the dome and its components as they follow the instructions to build their own dome in 3D by coloring, cutting and pasting parts of the dome from paper
-brick by brick (Simulation of traditional mud brick construction)
The participants learn the difference between traditional and modern construction and the carbon emissions resulting from a modern building versus a traditional one. Then, the participants start constructing elements of buildings from pouring bricks into small molds, preparing the bricks for construction, preparing the mortar, and then building a wall in different ways and finally Simple contract construction.
* Athar Lina Product line will be on display during the festival make sure to check it out!
يهدف النشاط إلى التوعية بقضايا التغير المناخي من خلال التركيز على مناقشة البصمة الكربونية للمباني. يبني النشاط على اهتمام مبادرة الأثر لنا بالعمل على البيئة المبنية القائمة من خلال مشروعات الترميم والتنمية العمرانية وتعليم التراث والصناعات التراثية. يركز النشاط على التفريق بين البناء التقليدي والبناء الحديث من حيث الشكل والوظيفية الإنشائية وتقنيات ومواد البناء وربط ذلك بالتأثير البيئي. ينقسم النشاط إلى مراحل ثلاث، وهي
- التعرف على المحيط ( نشاط خريطة الخليفة)
يتعرض المشاركون تجربة التجول في القاهرة التاريخية ومبانيها المتنوعة في المعالجات الإنشائية وبالتالي التأثير البيئي من خلال تلوين خريطة تلوين كبيرة لحي الخليفة تظهر المباني الأثرية والمباني الحديثة وتفاصيل الحياة اليومية في نفس الرسم.
- نشاط اصنع قبة لاجين ( البناء بالورق)
يمر الطلاب على تاريخ جامع أحمد بن طولون أقدم مسجد جامع قائم في مصر، وعلى قصة بناء قبة لاجين في صحن القبة ووظيفتها والتحليل البيئي لمبنى جامع ابن طولون. يبدأ المشاركون في التعرف على هيكل القبة ومكوناتها الإنشائية ويتبعون التعليمات لبناء قبتهم الخاصة بشكل ثلاثي الأبعاد عن طريق التلوين وقص ولصق أجزاء القبة من الورق.
- نشاط طوبة على طوبة ( محاكاة البناء التقليدي بالطين اللبن)
يتعرف المشاركون على الفرق بين البناء التقليدي والحديث والانبعاثات الكربونية الناتجة عن بناء مبنى حديث مقابل المبنى التقليدي، ومن ثم يبدأ المشاركون في بناء عناصر من مباني بداية من صب الطوب في قوالب صغيرة، تجهيز الطوب للبناء، إعداد المونة، ومن ثم بناء جدار بطرق مختلفة وأخيرًا بناء عقد بسيط. * منتجات الأثر انا هتكون موجودة خلال المهرجان، متفوتهاش!
About Athar Lina:
Athar Lina (www.atharlina.com) is a participatory conservation initiative that aims to establish modalities of citizen participation in heritage conservation based on an understanding of the monument as a resource not a burden. Athar Lina (The monument is ours) believes that only when cultural heritage is beneficial to the community, will the community become an active partner in its conservation. It sees the conservation decision-making process as an inclusive participatory process between stakeholders and believes that conservation can be a vehicle for development. Athar Lina is run by the Built Environment Collective|Megawra, a twin organisation including an NGO and an architecture firm (www.megawra.com)
عن الأثر لنا
بادرة الأثر لنا (www.atharlina.com) مبادرة ترميم تشاركي تهدف إلى إيجاد طرق لإشراك المجتمع في الحفاظ على التراث بناء على فهم الآثار كمورد لا كعبء. تؤمن مبادرة الأثر لنا بأنه فقط عندما يمثل التراث مصدرًا للنفع للمجتمع يتحول المجتمع إلى عنصر فعال في عملية الحفاظ. وترى مبادرة الأثر لنا أن آلية اتخاذ القرار في الحفاظ على الآثار تأتي كعملية تشاركية متكاملة بين الأهالي. وتؤمن بأن الحفاظ على التراث من الممكن أن يصبح وسيلة للتنمية. تدار الأثر لنا بواسطة جمعية الفكر العمراني | مجاورة وهي مؤسسة مزدوجة تضم جمعية أهلية ومكتب استشارات (www.megawra.com).