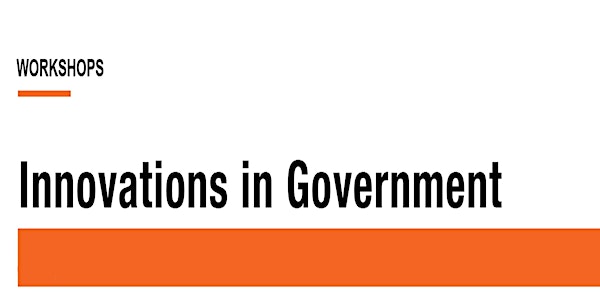 Workshop #3: Economics of race: Intention, impact, and consequences
Innovations in Government is a workshop series that centers local artists / cultural practitioners as leaders who advance racial equity. 3/3
About this event
Workshop #3 - Economics of race: Intention, impact, and consequences / Taller de Innovaciones en el Gobierno #3 - La economía de la raza: Intención, impacto y consecuencias
November 10, 2022, at 6:30 p.m. / 10 de Noviembre de 2022, a las 6:30 p.m.
Workshop Description / Descripción del taller:
Can we create an economy of abundance through cultural practice? Participants will examine and discuss policies / practices that create space for collective abundance, in contrast with scenarios that perpetuate a false sense of scarcity. We will review the differences between intention, impact, and the consequences of such decisions.
¿Podemos crear una economía de la abundancia a través de la práctica cultural? Los participantes examinarán y debatirán las políticas/prácticas que crean un espacio para la abundancia colectiva, en contraste con los escenarios que perpetúan una falsa sensación de escasez. Revisaremos las diferencias entre la intención, el impacto y las consecuencias de tales decisiones.
About the workshop series / Sobre la serie de talleres:
Innovations in Government is a workshop series that centers local artists / cultural practitioners as leaders who advance racial equity in the arts and culture field. The series was developed in collaboration between PUSH Dance Company / Dancing Around Race and California Arts Council staff. The themes explored will be relevant to arts organizations, artists, nonprofits, and government agencies interested in advancing racial equity practices in their institutions. This program was generously supported by the Government Alliance on Race & Equity's Innovation and Implementation Fund Arts and Culture.
"We share many identities, many degrees of varying existence in what we consider to be a radical imagination to hold our differences equal to each other through racial equity. PUSH Dance Company is bringing in Dancing Around Race to help "champion a spectrum of aesthetic perspectives" whereby we'll confront systemic, institutionalized, and internalized racism in our everyday artistic frameworks." quote from Raissa Simpson, Artistic Director, PUSH Dance Company
Innovaciones en el Gobierno es una serie de talleres que se centra en los artistas locales / profesionales de la cultura como líderes que promueven la equidad racial en el campo de las artes y la cultura. La serie fue desarrollada en colaboración entre la Compañía de Danza PUSH / Dancing Around Race y el personal del Consejo de las Artes de California. Los temas explorados serán relevantes para organizaciones artísticas, artistas, organizaciones sin fines de lucro y agencias gubernamentales interesadas en promover prácticas de equidad racial en sus instituciones. Este programa fue generosamente apoyado por la Alianza Gubernamental sobre la Raza y Equidad - Fondo de Innovación e Implementación De Arte y Cultura.
"Compartimos muchas identidades, muchos grados de existencia variable en lo que consideramos una imaginación radical para igualar nuestras diferencias a través de la equidad racial. La Compañía de Danza PUSH trae a Dancing Around Race para ayudar a "defender un espectro de perspectivas estéticas" por el que nos enfrentaremos al racismo sistémico, institucionalizado e interiorizado en nuestros marcos artísticos cotidianos". Cita de Raissa Simpson, Directora Artística de la Compañía de Danza PUSH
Registration Note / Nota de inscripción:
These are three-standalone, two-hour workshops; you can register for all three or just the ones that feel relevant to your work. To allow for a level of interaction and depth for all participants each workshop is limited to 50 participants. Please register today to hold your spot, there will be a waitlist and we will be in touch to confirm your spot in the workshop.
Se trata de tres talleres independientes; puede inscribirse en los tres o sólo en los que considere relevantes para su trabajo. Para permitir un nivel de interacción y profundidad para todos los participantes, cada taller está limitado a 50 participantes. Por favor, inscríbase hoy para mantener su lugar, habrá una lista de espera y nos pondremos en contacto para confirmar su lugar en el taller.