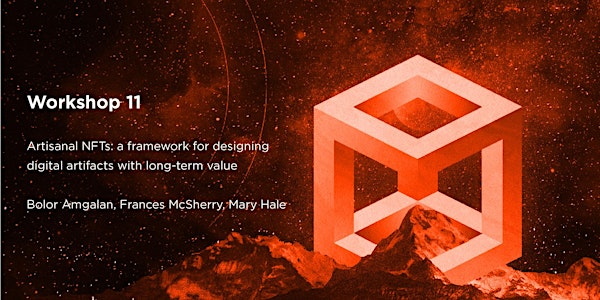 Workshop 11 - Artisanal NFTs: framework for designing digital artifacts
"Artisanal NFTs: a framework for designing digital artifacts with long-term value" facilitated by Bolor Amgalan, Frances McSherry, Mary Hal
About this event
What do CryptoKitties and a Betty Crocker heirloom cookbook have in common? Non-fungible tokens (NFTs) have exploded in the arts and entertainment sectors in the past two years, creating the sense that if one is not actively participating or engaging with NFT communities, they are missing out.
For months, enthusiasts have rushed to bid on an NFT that is affordable but unique enough to generate significant investment return in the long term. Yet, much like how things operate in the fine art world, there is no definitive way to guarantee that an NFT will go up in value over time, let alone sell. Aside from the monetary value they represent, what other values do NFTs and the participation in an NFT community embody? With a Strategic Seed Grant from the College of Arts, Media and Design at Northeastern University, our research team is studying NFTs and their respective communities through a craft materiality lens in an effort to define artisanal craft for digital wares fabricated from virtual materials.
Through a unifying framework synthesis, our goal is to shed light on how attributes that we ascribe to valuable physical artifacts also have counterparts in the digital marketplace, and how these attributes may be leveraged to design for resilience and long-term value. Craft is often associated with socially and communally produced productive skills and abilities reflecting localized place-based traditions or cultural identity.
For craftspeople, becoming acquainted with the working material is the first step to improving a skill. Different materials have different properties, some easier to tame than others, while some exhibit different characteristics as time passes, transforming in the hands of the maker. These emergent properties of materials, the delight in their discovery and the ultimate reward of learning to manage them form the very essence of what determines craft values - patience, persistence, community resilience, and awareness of resource limitations, to name a few.
In short, craft values are commonly defined through an understanding of different timescales and the lived experience of individuals and communities over time. Hence, in defining a framework of artisanal craft for digital wares (or artisanal NFTs, in short), time forms one of the most important theme nodes. Time informs both the form and materiality of an artifact - form understood as the material manifestation, substance, and making of an artifact, and materiality understood as what matters, or has significance, in the world, the meaning behind and the ecology of an artifact (Jung & Stolterman 2011). Time, form and materiality together form the central theme nodes of our framework. This workshop will introduce participants to the first iteration of the framework, as well as relevant findings on NFT trends, sales patterns, sustainability factors and community structures.
Participants will then be guided through a step-by-step process of designing their own speculative NFT considering its long-term value, impact on society and the environment.
Together we'll respond to questions such as:
How can NFTs be designed as a form of slow technology that instills long-term thinking and the mindset of resilience much like The Long Now Foundation's "10,000-year clock" project?
What are the material and immaterial considerations for designing a climate-friendly NFT? Studies have found a time compression phenomenon in virtual reality (VR) with VR users reporting shorter perceived experience of time in VR compared to using conventional monitor (Mullen & Davidenko 2021).
Could this phenomenon be leveraged to design virtual experiences (experience-based NFTs) that have milder material consequences on the physical world?
As well, how do virtual materials age?
Could temporal processes such as wear, tear and decay inform the design of virtual materials signaling the passage of time and adding value to NFTs made using them?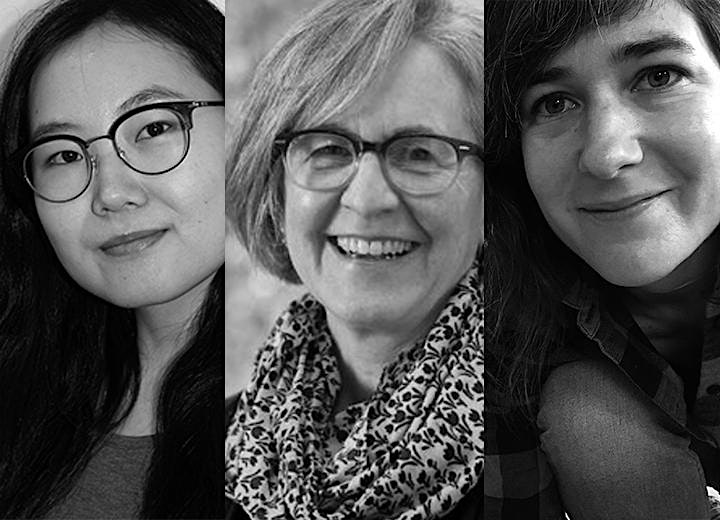 Bolor Amgalan
Bolor Amgalan is an interaction design researcher, educator, and design strategist leveraging virtual reality, craft, and blockchain technology to design culturally sensitive transition design interventions with implications on the future of work and human-machine collaboration.
Bolor is the founder of FABERIUM, a community platform for NFTs promoting the artisanal values of craftsmanship, awareness of resource limitations and authenticity in the digital landscape. She is Assistant Teaching Professor in Art+Design at Northeastern University and have previously taught at Parsons School of Design and Pratt Institute.
Bolor's work has been exhibited internationally in museums and shows including the Museum of Applied Arts and Sciences (Sydney), the Museum of Science (Boston), Milan Design Week, and Dutch Design Week. Bolor consults clients on biometric sensor integration in adaptive clothing, wearables, and visitor experiences and currently oversees the design for manufacturability of a soft robotic stroke rehabilitation device at Imago Rehab.
Mary E. Hale
Founder of ROYHALE design and Associate Teaching Professor at Northeastern University, is an artist, architect, educator, researcher and maker creating ephemeral spatial experiences, animated and brought to life through sound, projection and movement.
Mary collaborates with choreographers, video artists and sound artists to design architectural spaces for immersive performances. Recent work includes inflatable performance environments for "Dance Like No One is Whale Watching" and "Shimmer"– multimedia dance, video, sound and architectural installations; and "The Parksville Murders" – a VR horror opera. Recent research includes co-curating The New Inflatable Moment exhibition at BSA|Space.
In 2020, Mary began collaborating with students to research and create biodegradable materials that could replace the persistent materials in her practice. This work has been presented at the ACSA Teachers Conference, the RAIC CCUSA Academic Summit on Architecture, and will be published through the 2022 Lisbon Architecture Triennale.
Mary's work has been recognized through books and international art, design and technology publications like Metropolis, Clam, and the MIT Technology Review. Mary received the AIA Associates Award in 2015 for exemplary design advocacy in the public sphere.
Mary holds a Masters of Architecture from MIT, and a Bachelor of Arts in Urban Studies from Brown University.
Frances McSherry
Costume designer, fashion historian, and Teaching Professor in the Theatre Department. She has been designing and constructing clothing, costumes, masks, puppets, and props for many years.
As a maker, she has used her skills in patterning, draping, stitching, dyeing, and embellishing to create wearables which transcend the conventional—while also using non-traditional materials in innovative ways. She is currently collaborating with a team of CAMD faculty members and students on a 3D printed wearable art project which combines fashion with physical computing, performance, and social interaction.
With this new project, McSherry intends to leverage her knowledge of fashion and costume design, and her expertise in conventional and unconventional textiles and artisanal craft traditions. She looks forward to learning more about new materials and technologies which will help amplify the visibility of fashion artifacts which may be well known in their culture of origin but are not yet recognized and appreciated around the world.