There is a way to slay your goals, have a winning year + still be Healthy & Whole. Join Beebodi for the Workplace Wellness 101 Workshop!
About this event
Everyone is counting on you because you do the job done so WELL. Yet, behind closed doors you're under performing for yourself - exhausted, unmotivated, low energy, poor nutrition and/or mentally drained. We've discovered during the Global Pandemic that the Work + Life Balance is just as important as paying bills or providing for your Family!
So ~ do something for you this time. The Beebodi Marketplace is hosting a Wellness Workshop to help you discover news ways to take on the Balancing Act of it all. The Holidays are here so that doubles the load. Whew!!!
Take a moment for Pause and catch up to yourself for a 1.5 hour Virtual Retreat. What to Expect:
Demo and Discussion
Mental Health Check-In
Guided Meditation
Wellbeing Tips for the Worksplace
Gentle Stretch | GYROKINESIS®
Information about our Annual Restoration Spring Retreat in the Caribbean Islands 2022 *optional
About Your Host :
Kayla Harley is a certifed Holistic Wellness Practitioner that specializes in Breathwork, GYROTONIC®/GYROKINESIS®, Maternal Care/Doula, Fitness and Guided Meditation w/Sound Therapy. She is master trained by Native American Shamans, Faith-Based (Christian) Counselors and Naturalists who have all taught her the secrets to reviving persons from Chronic Pain, Emotional Trauma and Energetic Imbalances. She has helped women and men internationally find their Balance and Center both in person and online. Learn more about her by visiting the website:
www.beebodi.com | IG: @beebodi or @thegkbabe
Registration is Required. FREE!!! Privacy of Information is Important to us. We want you to be both vulnerable and supported in this community safe space.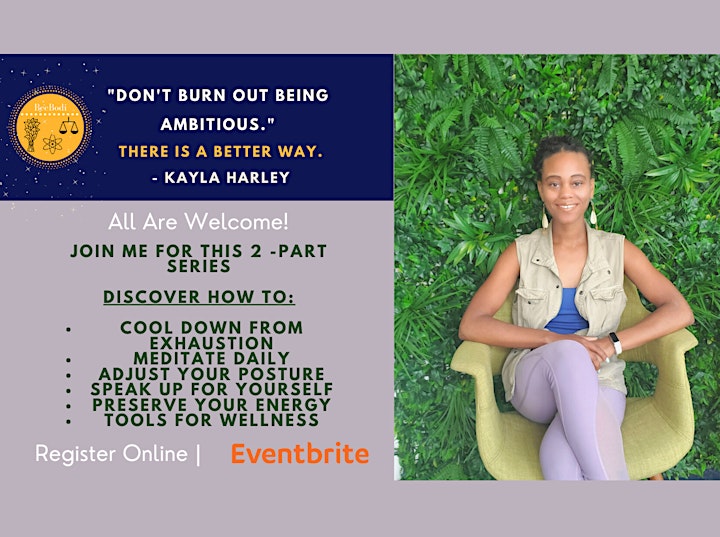 Organizer of Workplace Wellness : The Balancing Act Workshop : Wellbeing 101
Kayla Harley--a Storyteller, Dancer, Choreographer, Writer, and Director is a native to the DC Metropolitan Area. Harley began her training at Suitland High School for the Visual/Performing Arts in Forestville, MD. While in highschool she received advanced training at the Kirov Academy of Ballet, Alvin Ailey American Dance Theatre and Dance Theatre of Harlem Kennedy Center Residency. Harley attend the 2009 NFAA YoungArts Week as an exceptional dancer recieving the Level II Award in Modern Dance. She attended Alonzo King LINES Ballet in San Francisco, CA for her BFA in Dance. Upon gratuation, Kayla relocated to Chicago, IL as a 2013 Season Apprentice for River North Dance Chicago Company. She later took on the role of Tantomile in the Tony Award Winning Broadway Show, CATS with Paramount Theatre of Aurora. Harley has a danced with a various dance companies including Collage Dance Colletive, Brooklyn Ballet, Eudora Ballet, Valentin Projects, Carnival Chicago, Deeply Rooted Chris Choreography and The Collectif Project. She's worked along side well known choreographers: Matthew Powelll (Flesh & Bone), Kevin Thomas, Robert Garland (Dance Theater of Harlem), Gregory Dawson, Darell Grand Moultrie, Francesca Harper (Alvin Ailey), Mariana Lausic, Robert Moses Kin, Arturo Fernandez (LINES Ballet), Ana Lopez and more.
Harley was featured on ABC's TV Series Forever as Ballerina #1 and Norwegian Cruiseline Creative Studios Stage as an Entertainer. She emerged herself as an Independent Artist and Chororegrapher: Art All Night DC with work entitled "Nefertiti Walks" and the sequel "Queening". 

She is a certified GYROKINESIS® Apprentice Instructor at the Elements Center for Wellness and Fitness.
She continues to teach throughout the Washington DC Area and critique performances for blogsite: www.natbeedance.blogspot.com