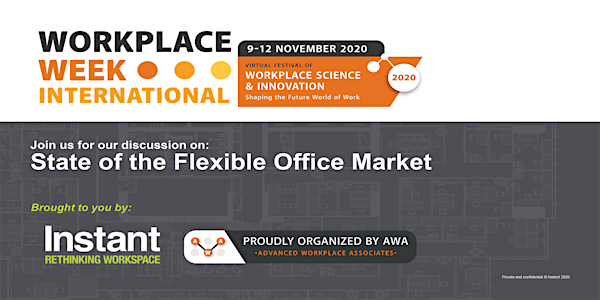 Workplace Week International: State of the Flexible Office Market
The ultimate work-from-home experiment has forced heads of real estate to re-evaluate their office needs and inject flexibility.
About this event
Within a few weeks of COVID-19 lockdown, it was clear that the office space as we once knew it was going to be transformed quickly. The ultimate work-from-home experiment has changed how we work, forcing real estate teams to rethink their portfolios and give employees more choice in where they work. In turn, this has enabled the flexible office industry. Whether for health and safety, cost savings, or adding a work-near-home option for employees, heads of real estate are finding flexible offices to be the answer to some of their key challenges.
During this event, Jaime Carey, VP Portfolio Solutions and Business Intelligence, Americas, and Michelle Bodick, Managing Director, Marketing and Sales, Americas of The Instant Group will give a state of the market update and highlight industry predictions. After the short presentation and Q&A session, attendees will be broken out into smaller networking groups. Bring a drink, a snack and join us for a lively evening.