Workplace Safety seminar covering the "what to do and what not to do" in emergency situations to protect your business and your employees.
About this event
Be one of only 20 people at this practical workplace safety seminar.
Your health and safety is our number one priority. To ensure that this will be a safe and enjoyable experience, we will practice social distancing and will follow all applicable CDC guidelines.
Amenities: Continental breakfast will be provided to all attendees.
In today's ever-changing world, we are constantly seeing and hearing about tragic events taking place in our workplaces. From shootings to bomb threats to terrorism… what do we do when these events happen in or around our business? How do we protect AND do our best to prevent these incidents from occurring?
Every manager and every employee have the duty to become educated so that they can protect their businesses, their peers, and themselves. These events have proven to cause major disruptions to businesses, have huge financial implications, and can even mean serious injury or death to employees. We need to be ever vigilant and always prepared. Do you know what to do?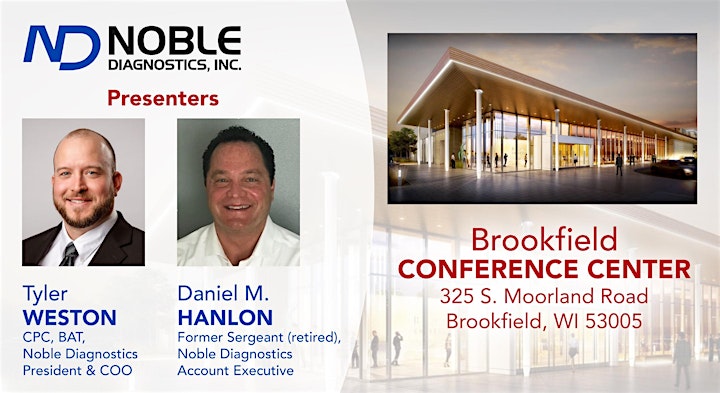 This educational seminar on "Workplace Safety" is presented by Noble Diagnostics, Inc. During this seminar, we will cover the "what to do and what not to do" guidelines for scenarios such as:
Active Shooters, Bomb Threats, Terrorist Attacks, Hostage Taking, Natural Disasters, Medical Emergencies, Fires, Chemical Spills
We will introduce site security plans, emergency response plans, evacuation plans, and more. We will also share our proven methodologies that will reduce your risks by hiring the right employees from the start. You'll learn what to do in emergency situations, and you'll be armed with the knowledge needed to make split-second decisions when seconds means saving lives.
Noble Diagnostics and Noble Medical will have staff onsite during the event for any questions during breaks and after completion of the seminar during the exhibit time.
Our presenters, Dan Hanlon and Tyler Weston, are both former law enforcement officers with over 43 years of combined law enforcement and military experience. They have been through not only classroom training, but real-time live scenario training on these situations. They have also presented this seminar many times to local businesses in and around Southeastern Wisconsin.
Meet our Presenters
Tyler Weston, CPC, BAT
President & COO
Noble Diagnostics, Inc. and Noble Medical, Inc.
Tyler proudly served our nation for six years in the U.S. Marine Corps as an Infantry Squad Leader and in Field Artillery Fire Control. He served overseas as part of Operation Shared Accord in Niger, Africa in 2006 during the ongoing Global War on Terrorism. After being Honorably Discharged from military service, he utilized his Bachelor of Arts (BA) degree in Management of Criminal Justice and became a law enforcement officer for seven years, where he spent several years in a unique patrol unit that specialized in narcotics and gang investigations in conjunction with the DEA, FBI and U.S. Marshals Service.
In the private sector, Tyler discovered new opportunities working within the Transportation and Logistics industry. He spent most of those years in leadership roles. He worked as the Director of Safety, Compliance and Fleet Maintenance for Daily Direct, LLC, a specialized trucking company in Milwaukee, as well as leading regional operations in the Greater Milwaukee and Greater Chicago areas for Ferrellgas, LP, a nationally known Fortune 1000 company in the oil/gas utilities industry.
At Noble Diagnostics, Tyler oversees operations and serves as the company's primary administrative officer. He holds industry certifications to include CPC and BAT. Tyler challenges employees to continually seek improvement in their processes, which empowers them to have an active role in Noble's success.
Daniel M. Hanlon, Former Sergeant (retired)
Account Executive
Noble Diagnostics, Inc. and Noble Medical, Inc.
Daniel Hanlon is an Account Executive with Noble Medical, Inc. and Noble Diagnostics, Inc. in Brookfield WI. Noble works with businesses to mitigate risk and ensure a safe work environment using hiring assessments, background checks, drug testing, and reasonable suspicion training. Energetic and driven to produce, he has transitioned seamlessly from his recent role as a Sergeant (retired) with the New Berlin Police Department.
He has been recognized both statewide and nationally for innovations in working with Geographical Information Systems (GIS) software for law enforcement agencies. He developed and led the transformation of information sharing with GIS throughout the New Berlin Police Department both internally, for staff and externally, for the public. This included a camera location system for residences and business to alert officers of potential evidence regarding criminal activity and incidents throughout the community. The GIS system further allowed the formation of a close connection to enhancing safety for the local business community in downloading floorplans, contact information, and safety plans to be made available for officers in squad cars on their touch screen computers. This tremendously increased efficiency as well as made critical information instantaneously available for officers on the street. The GIS system greatly enhanced officer safety by allowing for reporting of criminal incidents and arrests in near real time reporting via a portal on squad computers.
Dan worked to develop a business and community safety plan regarding Active Assailants and Situational Awareness. Building ongoing relationships with schools, businesses, community groups, and churches he has conducted hundreds of presentations and trainings. This has included speaking at numerous business and law enforcement safety conferences throughout the state. Dan has a strong passion for communicating awareness of what can be done to prepare and train for these unfortunate and tragic events and work to minimize risk through working with local law enforcement.
Dan has worked as a Public Information Officer and Media Relations specialist, Chamber of Commerce Director, Administrator of numerous community outreach programs including the Police Citizen's Academy, Youth Programs, DARE, Police Auxiliary Program, and Crime Prevention Committee. Dan was responsible for fundraising for the New Berlin Police Department and secured numerous community donations to ensure the success of the programs he administered. He also wrote numerous Federal Grants, including one to secure the GIS software for the department. Dan also was a tactical member of the SWAT team member for numerous years and worked as a Milwaukee Police Officer prior to working for the New Berlin Police Department.
Dan holds a Master of Science in Criminal Justice from the University of Wisconsin Milwaukee and was an instructor at Concordia University for ten years teaching Criminal Justice courses including Criminology, Criminal Psychology, Ethics in Law Enforcement, and Budgeting.