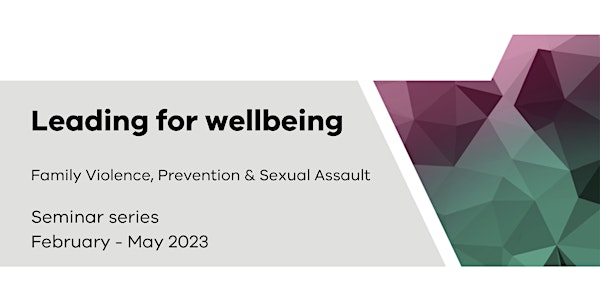 Workplace health, safety & wellbeing in practice - psychological safety
How to build thriving teams and workplaces amid challenges. Seminar 2/4
By The Department of Families, Fairness and Housing
Date and time
Tuesday, March 28 · 4 - 5:30pm PDT
About this event
1 hour 30 minutes

Mobile eTicket
The Department of Families, Fairness and Housing (DFFH) is offering a series of free 90-minute Leading for wellbeing seminars for Family Violence, Prevention and Sexual Assault managers, team leaders, coordinators, Human Resource staff, emerging sector leaders and interested practitioners and workers.
Facilitated by the world-renowned Health, Safety and Wellbeing expert, Dr. Michelle McQuaid, the series is designed to respond to your workplace wellbeing queries and share your success stories and challenges.
Dr. Michelle McQuaid was the top-rated speaker for the 2020 Leadership Intensives and Alumni Fireside Chats. The new seminar series will build on the previous conversations in relation to workplace health, safety and wellbeing and contribute to DFFH's commitment to building leadership capability in the family violence, prevention and sexual assault workforces.
Each seminar extends the learning for the previous one, however you are welcome to attend any of the seminars even if you haven't attended the ones before.
Feedback from Seminar One has been very positive with 87 per cent of respondents rating the seminar as 'pretty good' or 'excellent' and 90 per cent of respondents saying they'd recommend the seminar recording to a colleague. 
Seminar One participant quotes:
'Great facilitator, integration of evidence base and shared stories of applied individual and team approaches that support wellbeing.'
'I think (this seminar) would be a great resource for all leaders, especially those in the sector.' 
Seminar Two
Workplace health, safety and wellbeing in practice - psychological safety to reduce harm and burnout.
Are you and your organisation looking for ways to grow the psychological safety in your teams and workplace? Do you have great approaches to share? Bring questions, challenges and best-practices to this 90-minute leadership seminar with Dr Michelle McQuaid as we dive into the latest evidence-based actions that can have a big impact for individual and collective care.
This will be a real-time hackathon for your workplace health, safety and wellbeing challenges, to help us:
Understand what the new psychosocial hazard requirements mean for workplaces, leaders and their teams.
See how workplaces are using the Safe & Equal self-assessment tool to minimise psycho-social risks and support intersectionality, inclusion, and equity.
Explore why building psychological safety at the Us (workplace), We (leaders and teams), and Me (individual) levels can improve learning, wellbeing and performance.
Experiment with the four small evidence-based actions every leader can take to build a culture of safety and care.
You will come away with practical ideas you can immediately apply with your teams and yourself.
Zoom Link for seminar 2:
https://us06web.zoom.us/j/89319001373 | Meeting ID: 893 1900 1373
This seminar will be recorded.
Subsequent seminars
Seminar Three - 27 April 2023 - Extending workplace health, safety and wellbeing learning - Cultural safety and holistic healing. Co-facilitated with an Aboriginal professional.
Seminar Four - 30 May 2023 - Responding to your workplace health, safety and wellbeing needs - tying it all together.
Additional Health, Safety and Wellbeing supports
Guide and Tool - The online Family Violence, Prevention and Sexual Assault Health, Safety and Wellbeing Guide and Family Violence and Sexual Assault Self-assessment Tool are now available.
Pilots - The Guide, Tool and Survey are being piloted across the state in a mix of family violence, prevention and sexual assault programs until June 2023. Additional resources will be co-developed with the 8 pilot sites, showcased in a final workshop mid-2023 and added to the Guide.
Wellbeing survey - The Wellbeing Survey has been adapted for the family violence, prevention and sexual assault workforces with licences to create team and program/organisational survey reports. This provides a systems approach to measuring and caring for workplace health, safety and wellbeing.
DFFH is offering up to 100 licences for teams, programs and organisations to access aggregated wellbeing survey reports, free of charge. Each licence lasts 12 months.
To find out more, please watch the following video and find out how to apply for a licence.
Please advise the team at cwe@dffh.vic.gov.au if you have any accessibility requirements.
About the organizer
Our department oversees the portfolios of housing, child protection, disability, ageing and carers, prevention of family violence, women, veterans, youth, multicultural affairs and LGBTIQ+ equality. In delivering across these portfolios, we work every day to achieve a fairer, safer and more inclusive Victoria. We support people so they can feel empowered, safe and secure.