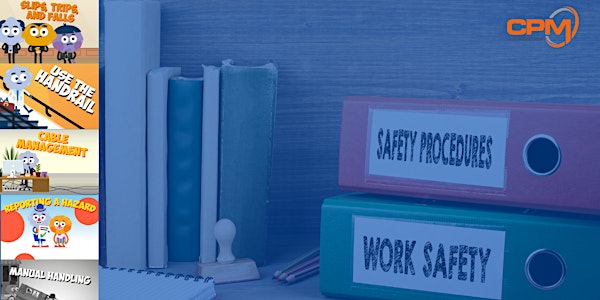 Workplace Essentials - Bundle of 5 Courses
Online Course. Study at your own pace. Bundle of 5 Courses.
About this event
365 days 8 hours

Mobile eTicket
CPM Academy and TalentLMS bring 100% Online Courses for your professional development. Receive a Certificate of Completion from CPM Academy after each course.
This Bundle includes the following 5 Courses:
Slips, Trips and Falls
If we slip, trip, or fall at work, we'll get a minor scratch at best. At worst, these accidents could result in major injuries or even death. This makes identifying hazards and taking preventative steps really important.
By the end of this course, you'll be able to:
Identify hazards in the workplace
Take action to prevent accidents
Know what to do if an accident happens
Use the Handrail
A fall down steps, wherever you are, is not only going to hurt your pride, but it could land you with a serious injury, or worse. By making small changes, you can ensure that you navigate steps and stairs without any mishaps.
By the end of this course, you'll be able to:
Understand the importance of handrails
Stay safe on stairs
Better understand the consequences of a fall
Cable Management
Almost every electrical item you have on your desk has got some sort of wire coming out of it, we'd guess. They need to be kept tidy. Not just because they'll look nicer that way but also because tidiness makes it easier and safer all around.
By the end of this course you'll be able to:
Understand cables and how they work
Understand the importance of good cable management
Keep cables organized
Reporting a Hazard
In the workplace, hazards are serious business though, so spotting and properly reporting them is vital. Getting it right could mean avoiding injury. Getting it wrong could result in anything from minor bumps and bruises to serious, or even fatal, accidents.
By the end of this course, you'll be able to:
Understand the risks of not reporting hazards
Identify hazards in your workplace
Report hazards correctly
Manual Handling
In the workplace, there are correct procedures for lifting and manual handling that need to be followed so that we can avoid getting hurt. The harm we might suffer can range from fairly minor to serious, life-changing injuries.
By the end of this course, you'll be able to:
Understand the types of injury caused by incorrect handling
Lift and handle heavyweights correctly
Prevent accidents