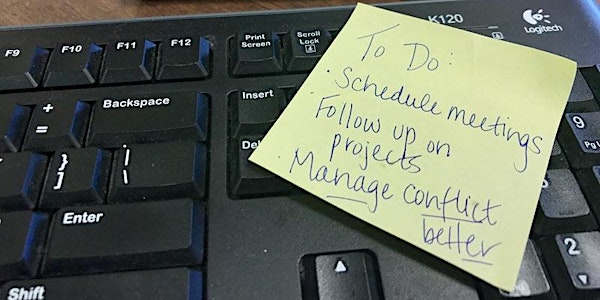 Workplace Conflict Resolution- LIVE WEBINAR
Learn essential skills for managing conflict in the workplace.
About this event
This is a LIVE Webinar on Zoom.
Before you proceed, please take note:
For this live, interactive, participation-based webinar:
Be AUDIO-ON and VIDEO-ON.
Have ready access to handouts (which will be sent beforehand).
Be in a reasonably quiet place (although barking, meowing and kid noise are okay - we get it!)
Have a reasonably stable internet connection and stationary environment (not in the car!).
Participants who need to turn video off more than briefly will be placed in the virtual "waiting room" until they are available to re-join.
There will be a 15 minute audio-off, video-off break in the middle of each session.
If either the date or the training format don't work for you right now, we hope you'll considering joining us online on different dates or when we have in-person training again.
**Workplace Conflict Resolution has been approved by:
NCSAPPB - 5 general skill building hours
COURSE DESCRIPTION
We encounter conflict in the workplace every day. Unresolved employee conflict is costly and distracting. When we feel confident managing workplace conflict, teamwork is more efficient, employee retention is higher, cooperation increases, and everyone can focus on the work at hand. 
You will leave this workshop with:
 An understanding of how personal views and beliefs about conflict might help or hinder you in the workplace
 Tools to use now to resolve disputes
 More confidence to act when you encounter conflict
 Strategies to remain calm when others are angry
 Practice helping others resolve their own problems to avoid tension and resentment
Participants will receive a certificate for 5 hours continuing education .
WEBINAR DATES
This workshop will be divided into two three-hour Zoom sessions over 2 days. Participants must attend both dates to receive a certificate of attendance for 5 hours. There will be a 15-minute break each day.
Thursday, October 20, 2022 - 9:30 a.m.- 12:15 p.m.
Friday, October 21, 2022 - 9:30 a.m.- 12:15 p.m.
TRAINER
Laura Jeffords, MPA, the Mediation Center's Executive Director, will lead this training. Laura has over 15 years' experience as a professional mediator and conflict resolution skills trainer. She is experienced in working with community, family, re-entry, and organizational conflict.
Please e-mail training@mediatewnc.org for a special rate for staff of WNC nonprofits