Working With Translations

Thursday, January 23, 2014 from 1:00 PM to 2:30 PM (CST)
Event Details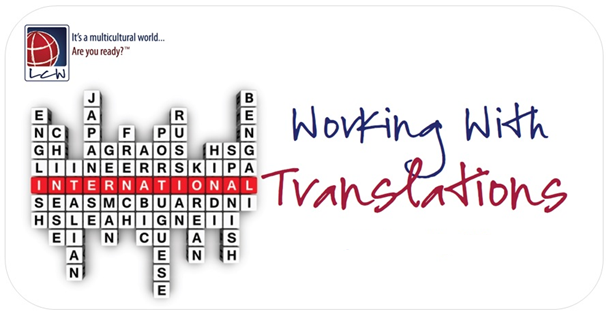 LCW Service Spotlight: Translation+ 
This month we're kicking off 2014 with an interactive mini-workshop that will help you better understand the translation process. More and more business is taking place across national and linguistic borders, and translation has become an indispensable part of many organizations. But for many of us, even if we're bilingual, the process may not be clear.

Join us for this interactive mini-workshop to identify ways to save time, money, and reduce the stress typically associated with translation projects.

Gain a greater understanding of the structural differences between languages, and their impact on the translation process

Learn how to set up and manage content to optimize cost and turnaround, while avoiding pitfalls

Learn about the translation industry, technologies, and trends

Gain a better understanding of LCW's translation process, and what it means for our clients
---
Who Should Participate? This session is ideal for anyone involved in planning, managing, and/or budgeting projects that include a translation component.
Session Level? Beginner to Intermediate. This session will be useful for people who have never worked with translations before, and those who have some experience working with translations.    
Session Confidentiality? This virtual mini-workshop will be recorded and archived for future broadcast. Please note that participant names or organizations will not be shared by hosts during the session. However, participants may choose to disclose their personal or organizational identity during the session, either verbally or via one of the onscreen chat discussions. 
---
WORKSHOP FORMAT
Highly interactive mini-workshop in LCW's virtual classroom
90 minute workshop, which includes Q&A with LCW translation experts 
Participants will require computer audio capability for this session. For those who would like to participate verbally (highly encouraged!) a computer microphone will be required. If you do not have access to a microphone but would like to verbally participate, please contact us for an alternative arrangement.
---
Join the conversation, follow us:
Organizer
About LCW Mini-Workshops
The LCW mini-workshops provide an opportunity for participants to:
Learn more about language, culture, and how it impacts us at work. 
About LCW 
Language & Culture Worldwide was founded in 2000 by Monica Francois Marcel and Randall Stieghorst. As returned Peace Corps Volunteers, they understand both personally and professionally what it takes to connect, succeed and build relationships across cultures. Our mission is to provide training, consulting and translation services that inspire professionals to connect across cultures.
Learn More About LCW