Working with Students in Crisis: What Every Instructor Needs to Know

Tuesday, October 17, 2017 from 9:00 AM to 10:30 AM (EDT)
Event Details
A GGC e-mail address is required in order to register for this event. Our workshops are developed specifically for GGC faculty and staff only. All other registrations will be declined.
GGC's Counseling and Psychological Services (CAPS) presents:
Working with Students in Crisis: What Every Instructor Needs to Know 
During a meeting with a student, you raise concerns about her performance on recent tests. The student informs you that she has been having difficulties with depression and feels unmotivated all the time. You notice a scar on her wrist and ask about it. She explains that over the weekend she thought about taking her life and instead cut her wrist to release her feelings. What do you do next?

Difficult situations like these occur frequently between faculty members and their students. A number of emotions, such as feeling scared, worried, or uncertain, can arise and make it hard to know how to best handle things. Our training is aimed at helping faculty members to feel prepared for such situations and to be capable as helpers. We will help you understand how to help students in crisis and know what appropriate steps to take. In this training, faculty members will learn to recognize the warning signs of depression and suicide, key guidelines for offering help and hope to students, and knowledge about resources that are available to GGC students and ways to help them connect with these services.
Participants will learn to:
Recognize the warning signs of depression and suicide

Inquire about a student's safety

Offer hope and appropriate levels of support

Refer students for additional help on campus
Completion of the course is measured by an in-training role play. A member of the GGC Counseling and Psychological Services will be onsite to consult with and to answer questions.
This course will be offered four times. Please register for the date that is most convenient for you:
1) Friday, September 15, from 2:30 - 4:00 pm
2) Tuesday, October 17, from 9:00 - 10:30 am
3) Wednesday, October 25, from 10:30 am - 12:00 pm
4) Thursday, November 16, from 10:30 am - 12:00 pm
Facilitator: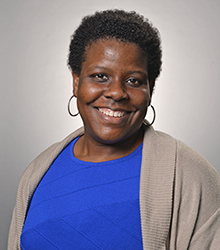 Dr. Marion Chapman - Part-time Psychologist

Prior to coming to GGC, Dr. Marion Chapman worked for Kennesaw State and New Mexico State Universities in their Counseling and Psychological Services Center. She completed her pre-doctoral internship at New Mexico State University. Her clinical interests include relationships, romantic relationships, biofeedback, eating concerns and supervision. Chapman completed her undergraduate study in psychology at Clark Atlanta University. She earned a master's degree in guidance and counseling from the University of Georgia. She earned a Ph.D. in counseling psychology from Purdue University.
When & Where

GGC, Center for Teaching Excellence
1000 University Center Ln
L Building, CTE Conference Room (L-2135)
Lawrenceville, GA 30043


Tuesday, October 17, 2017 from 9:00 AM to 10:30 AM (EDT)
Add to my calendar