Learn how you can work with post-secondary educators to deliver curriculum that prepares your future workforce to be effective on day one
About this event
Many students graduate from high school and jump right into a post-secondary education without necessarily knowing what the outcome will be. They might graduate with a degree, but when they start working for you, there will often be a huge amount of training on your systems, your processes, your environment and your culture that's required. That investment can be costly, and it takes time to get that worker to the level of productivity needed to be effective in their job.
What if you could work with post-secondary institutions to create curriculum that is specific to your industry, to your company, even to the way you do things? Imagine a worker that has received an education that focuses on exactly what they need to know to be successful in your organization. Imagine the value that worker would drive on day one vs. needing additional training for six to twelve months after starting. The benefit is clear, but for the average employer, the question is how does one make that happen? How do you partner effectively with higher-ed organizations to achieve this outcome?
Join this webinar by Patrick Mineer, CEO Golden Path Solutions, where he'll outline how businesses can work with post-secondary schools & programs to train the future workforce on the things you need them to understand, the processes you want them to follow, even the technologies you need your workers to know. Learn how coupling this with tuition reimbursement allows you to create and secure the workforce of the future with the required skills, creating a win/win/win for you, the worker, and the school
Dr. John Richman, President, North Dakota State College of Science will be joining us to discuss how two-year education programs can be customized for your organization's needs. Dr. Josh Behl, Dean of the College of Business, Analytics & Communication at MSUM will share a similar perspective for four-year programs, as well as how specific classes can be created to address specific needs. Finally, Blain Booher from the Emerging Digital Academy will discuss alternatives to the traditional two and four year degrees that can get a future software designer the training they need for a specific career in a short time frame.
TOPICS TO BE COVERED
Benefits of establishing relationships with post-secondary education programs
How to identify the best post-secondary school to work with and who to engage with.
What are the requirements and challenges associated with modifying programs in the various types of academic institutions?
Learn how local employers have worked successfully with post-secondary education programs to fill high demand roles with highly skilled graduates.
Discuss how to prepare and plan for success. Next steps?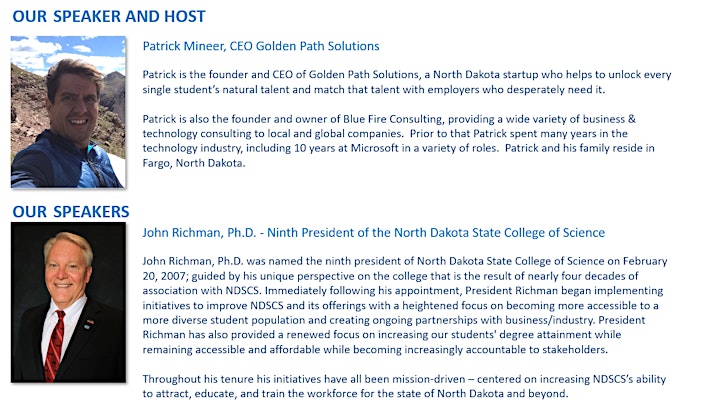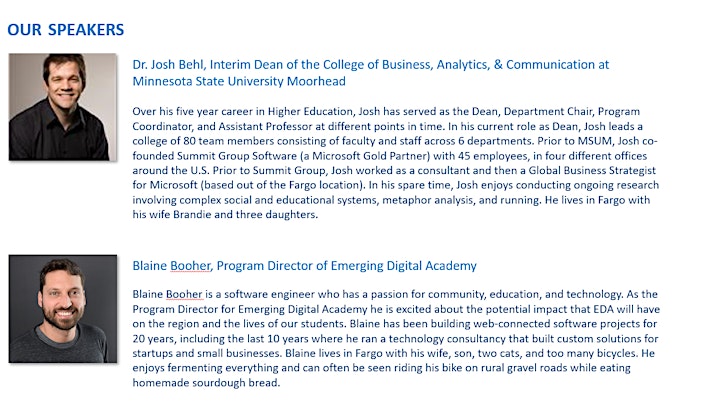 Organizer of Working with Post-Secondary Schools to Prepare Your Workforce