One hour FREE continuing education for mental health professionals working with adolescents
About this event
Workshop Description:
Working with adolescents presenting with "high risk" behaviors can provide a considerable amount of professional anxiety for the clinicians. What behaviors or symptoms should a clinician identify as "high risk"? What can we do when typical therapeutic rapport strategies and evidenced-based practices do not seem to be making the desired impact? What are some specific challenges in working with the adolescent population?
This workshop will help clinicians understand what constitutes "high risk" behaviors and how to effectively assess clients in order to reduce the inconsistency with interventions that can delay therapeutic progress. Discussion topics will include overlapping drivers for behavior, the struggles of uneven development, as well as inconsistent risk and protective factors. Participants will also examine competing therapeutic priorities and other factors that are impacting the adolescent's ability to effectively engage in treatment. Participants will also learn helpful strategies and practical treatment techniques rooted in Dialectical Behavioral Therapy that can be implemented in their practice.
Objectives:
Participants will be able to:
1. Identify specific behaviors and symptoms that place adolescents at "high risk"
2. Identify differences between suicidal vs self-harming (injurious) behavior (emotional dysregulation vs willful/conduct behaviors; homicidal vs physical aggression)
3. Describe adolescent developmental challenges to consider
4. Identify risk factors and protective factors for youth
5. Describe hierarchy of symptoms and difficulties to address when working with adolescents presenting with "high risk" behavior
6. Describe strategies to assess, engage, and treat adolescents and families
7. Engage in specific strategies that incorporate DBT skills to improve therapeutic impact when working with adolescents and their families.
Continuing Education Credit:
1 contact hour for counselors approved by NBCC
1 core hour for social workers approved by GSCSW (Approval#071320)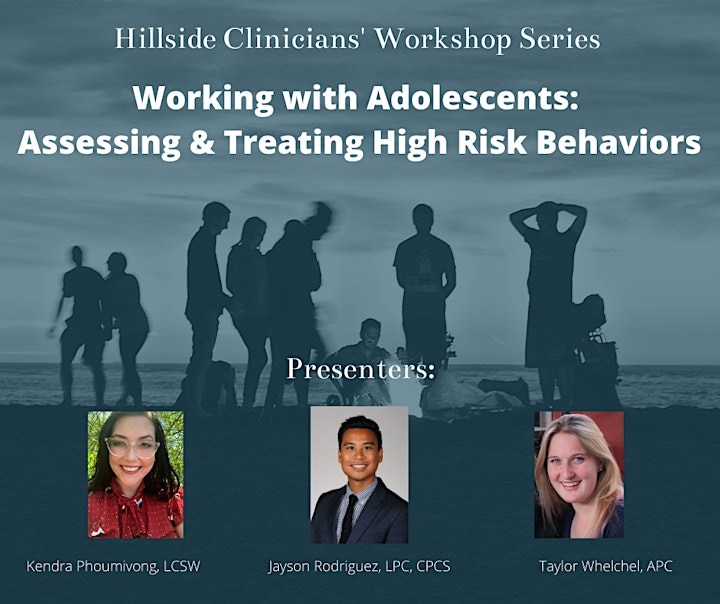 Organizer of Working with Adolescents: Assessing & Treating "High Risk" Teens
Hillside® offers a continuum of mental health care of children, adolescents, young adults, and their families. To fulfill our mission to help children and teens with mental health issues successfully transition to adulthood, Hillside
 not only treats clients in their mental health facilities in the Atlanta, we also use our expertise in behavioral health to train other mental health professionals in some of the treatment modalities we are successfully implementing in our continuum of care.
Hillside® has been approved by NBCC as an Approved Continuing Education Provider, ACEP No. 6948. Programs that do not qualify for NBCC credit are clearly identified. Hillside® is solely responsible for all aspects of the programs.