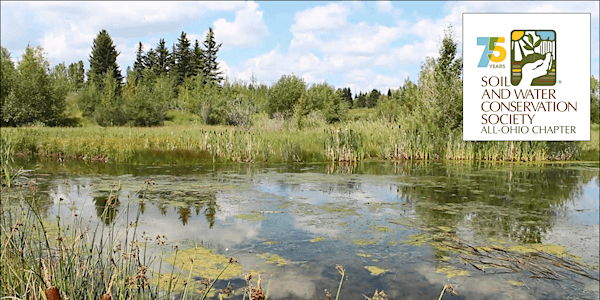 Working Wetlands: The Role of Wetlands in Nutrient Reduction 3-Part Series
Working wetlands 3-part webinar series.
Refund Policy
Contact the organizer to request a refund.
Eventbrite's fee is nonrefundable.
About this event
Wetlands can be an important part of a nutrient reduction strategy to improve water quality. However, wetlands can look and function differently depending on how they are constructed, where they are located, and the water quality goals a community wants to address.
The All Ohio Chapter of the Soil and Water Conservation Society hosts the following 3-part webinar series introducing you to leading wetland experts and practitioners to learn and discuss ways in which wetlands can work for you:
September 9, 2020, 10:30am-11:30am
Part 1: Types of wetlands and their role in the landscape. Speaker: Mark Dilley, Chief Scientist, MAD Scientist Associates, LLC; President, Ohio Wetlands Association; Associate Board Supervisor Franklin SWCD; Lecturer, The Ohio State University
November 4, 2020,10:30am-11:30am
Part 2: H2Ohio Wetland Restoration: where science and management meet. Speaker: Janice Kerns and Eric Saas, Ohio Department of Natural Resources
December 9, 2020,10:30am-11:30am
Part 3: Case studies on the effectiveness of tile-treatment constructed wetlands. Speaker: Maria Lemke, Director of Conservation Science, The Nature Conservancy in Illinois
Each event is free to attend with registration. The webinars are co-sponsored by: The Nature Conservancy, Ohio Farm Bureau Federation, Central State University, Heidelberg University, and USDA-NRCS.
The All Ohio Chapter offers annual scholarships to college students pursuing a career in soil and water conservation. As an option at check-out, you may make a donation to the scholarship fund in $10 increments. No purchase is required to attend the events.
Information about how to access this event will be sent with an email reminder from Eventbrite prior to the event. If you do not receive an email with online access information, please contact Jessica D'Ambrosio at 614-570-0034 or jessica.dambrosio@tnc.org.
You can learn more about us and consider becoming a member of the All Ohio Chapter by visiting us at http://ohioswcs.org and liking us on Facebook, https://www.facebook.com/ohioswcs/.