Working Mom Success Series is created to help provide strategies for moms to succeed in business, work, life and family.
About this event
Are you finding it challenging to engage in work needs while navigating shifts in demand of raising your family while working from home and/or transitioning back into the workplace?
Not knowing the steps on how to communicate your challenges can bring fear of appearing as if you are unable to handle the job at hand.
How you manage your time has become complex. Often staying up late to complete your tasks has been the go-to, but its starting to stretch you thin.
We will cover:
Time Management & Continuous Improvement for Moms: How to be more productive in managing tasks for work or business and family using the time you have available. We will also discuss continuous improvement strategies to increase the value of the tasks that you focus on.
Effective Communication: Learn how to communicate your challenges and navigate how to clarify your message in the Effective Communication series.
Living a Bolder Journey: Ever feel like you are holding back because you have a family to raise? We will walk through how to hone your skills, clarify your vision and showing up in ways that add value in the workplace.
Each session is interactive with live exercises for you to work on and ask any questions you may have. Sessions will be recorded and available for replay for registered participants only.
The Working Mom Success Series is created specifically for moms like you. As a mom of 4 children ages 10 and under, I understand the challenges that working moms and mompreneurs face.
Feel free to share with your network. This event is FREE and considered Professional and Personal Development. If you are a corporation that would like to have this training provided directly for your teams, please email me at: dtownsend@weoptimizework.com
Recordings are available for the Pay What You Want ticket registrants.
-Domonique Townsend, Founder of We Optimize Work
The Zoom Link will be sent to you after registering!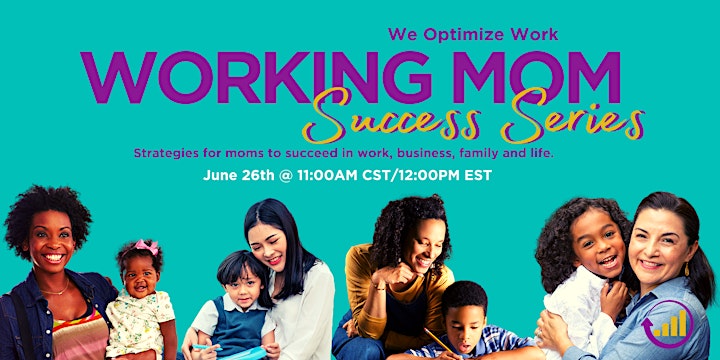 Organizer of Working Mom Success Series