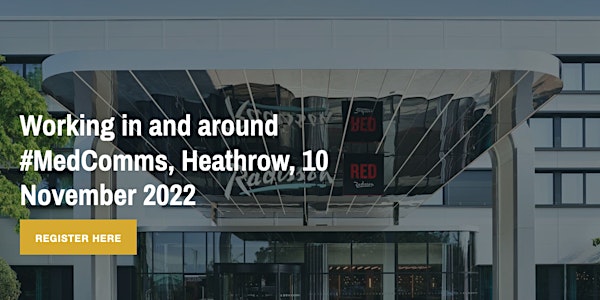 Working in and around #MedComms, 10 November 2022
NEW DATE! Join us for a messy, chaotic in-person meeting to learn more about careers in and around #MedComms. Everyone's welcome.
When and where
Location
Radisson Hotel & Conference Centre London Heathrow Bath Road West Drayton London UB7 0DU United Kingdom
About this event
PLEASE NOTE: This event was planned for 19 September 2022 but then had to be postponed in light of the Queen's funeral. We have successfully moved the programme to run 10 November 2022. If you had signed up for the original date, you will have to register again. Thank you.
MORE DETAILS AND LOTS OF BACKGROUND INFORMATION ABOUT EXHIBITORS AND CAREERS IN MEDCOMMS AND THE ASSOCIATED BUSINESSES, ARE FREELY AVAILABLE ONLINE AT NETWORKPHARMA.CAREERS
Join us at any time, for as long as you like, between 08.00 and 18.00 on Thursday 10 November at the Radisson Hotel & Conference Centre London Heathrow for a messy, chaotic, in-person event. Come and go as you like. Make a day of it. You'll have the opportunity to meet with lots of specialists from across the MedComms community, people working in and around medical communications, medical education and medical publishing who will be there to help explain the many career opportunities for you and to guide your next steps.
38 exhibitors now confirmed...
AMICULUM, Ashfield MedComms, Aspire Scientific, AXON, Bioscript, Certara Insight, Costello Medical, dna, DIVERSE., Edelman, EMWA, Envision Pharma Group, Fishawack Health, gCMEP, Healthware Medcomms, Helios Global Group, imc group, inScience Communications, Inspired Science, IPG Health Medical Communications, IQVIA, ISMPP, Langland, LiNK Health Group, Lumanity, Media Contacts, NexGen Healthcare Communications, nspm, Nucleus Global, Omnicom Health Group, OPEN Health, Oxford PharmaGenesis, Pharmiweb.Jobs, Prime Global, Red Nucleus, Syneos Health Communications, touch Independent Medical Education and Virgo Health.
Do your research beforehand, then come and meet the people to put it all in context and have your questions answered.
Plentiful refreshments will be freely available throughout the day!
A detailed programe will be published here as details become available. Arrive early. Stay 'till late. We'll make it worth your while.
We'll start at 08.00 with coffee, tea and pastries followed by...
Panel sessions: Experts answering questions in an open forum
Workshops: Practical skills and insights led by specialist in their fields
One-to-ones: Meet with individual companies for more personal, in-depth discussions about live opportunities
Networking: Chat informally throughout the day whenever and wherever the opportunities arise
We'll finish with a free bar 'till 18.00
For more information at any time meanwhile, please contact Peter Llewellyn on peter@networkpharma.com
MORE DETAILS AND LOTS OF BACKGROUND INFORMATION ABOUT EXHIBITORS AND CAREERS IN MEDCOMMS AND THE ASSOCIATED BUSINESSES, ARE FREELY AVAILABLE ONLINE AT NETWORKPHARMA.CAREERS