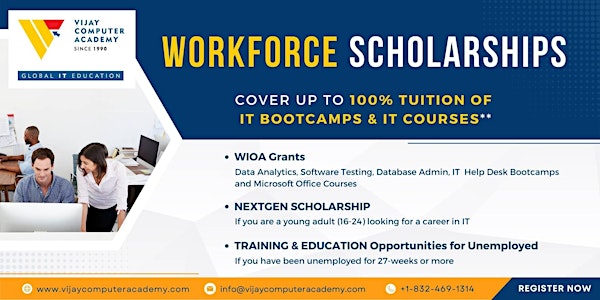 Workforce Scholarships Info Session
Learn how you may qualify for funds to cover the cost of IT Bootcamps / IT Courses at Vijay Computer Academy.
About this event
Launch your Career in a High-Demand IT Industry!
Vijay Computer Academy is an Eligible Training Provider in the state of TEXAS underneath the Workforce Innovation & Opportunity Act, which authorizes & funds employment & training programs in the United States.
This info session will help you learn more about various workforce scholarships that will cover the cost of your IT training, eligibility criterias and application process.
Team VCA will help to apply for these workforce scholarships including all the documentation and paper work required.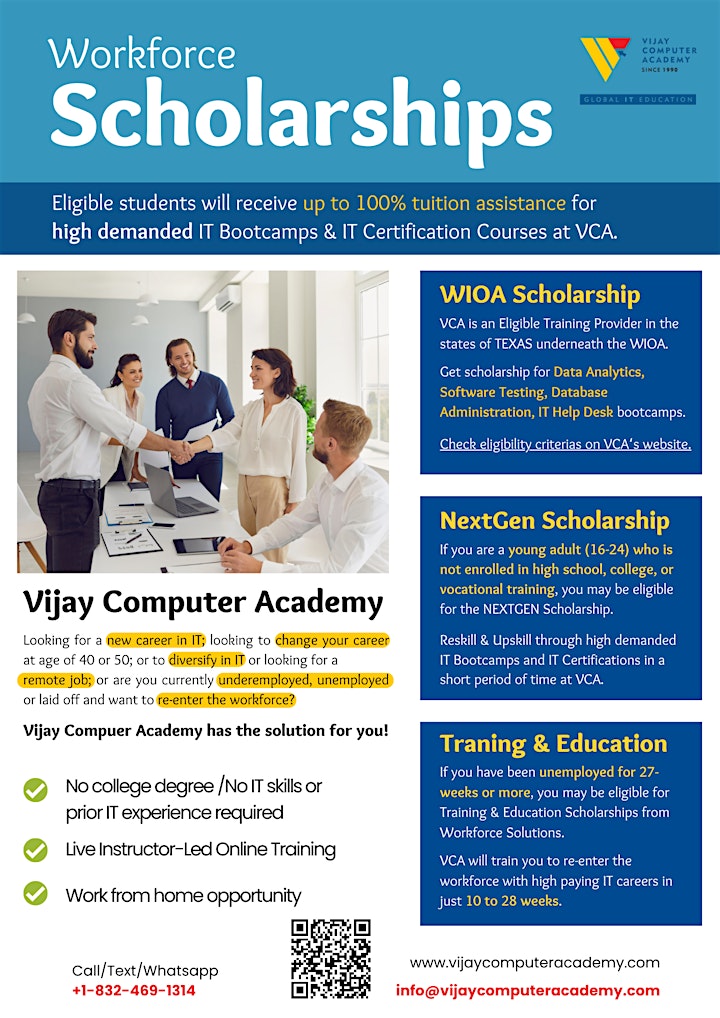 At VCA, we believe that education is powerful, and we are willing to offer it to anyone who wants it. So we work with zero bureaucracy.
No college degrees needed, prior IT background, or IT experience is required!
All is open to any ages, any genders, in your own time and pacing.
So, if you are looking for a new career in IT; or to diversify in IT or looking for a remote job; or you are currently underemployed, unemployed or laid off and want to re-enter the workforce, VCA has the right programs for you! Even if you are looking to change your career at age of 40 or 50, we are here to help!
We're ready to welcome you at VCA – Remote learning, remote working!
You will receive a Zoom link after registration. This info session will be offered in US CST time zone.
Interested students can also schedule a FREE personalized career consultation to discuss further scholarship and financial aid opportunities.