Event Information
Refund Policy
Contact the organizer to request a refund.
Eventbrite's fee is nonrefundable.
About this Event
This workshop is designed by renowned leader in remote collaboration, Lisette Sutherland. The Work Together Anywhere workshop brings together all the tips, tools, and best practices collected from hundreds of interviews of teams who are successfully navigating the world of remote work.
This workshop consists of four 90-minute interactive online sessions where we will have hands-on practice with many remote tools and collaborative techniques.
What are the goals of the workshop?
The Work Together Anywhere Workshop is designed to share experiences and learn how to:
Avoid miscommunications
Increase camaraderie
Run problem free meetings where everyone contributes
Inspire continuous improvement
Who should attend this workshop?
Managers, team leaders, and coaches who are interested in learning new ways to help their teams work better together remotely
Team members who are enthusiastic about improving their productivity and the enjoyment their day-to-day remote working environment
What are the technical considerations to attend this workshop?
This is not a one-way "webinar"! You will be engaging in live conversations with real human beings who share your challenges. To get the most of this workshop, you are expected to be heard and seen throughout. As with any remote meeting, each participant of the workshop brings part of the meeting space with them.
To make the combined remote meeting space the best it can be, please consider the following:
Call from a quiet place
Have a stable broadband internet connection. Optimum bandwidth, I.e. internet speed on your side will be at least 10 Mbps download/upload. You can measure your internet speed using speedtest.net
Use a headset or have a high-quality microphone
Turn your video camera on
To optimize your setup, follow these suggestions on how to have a great video conferencing setup
When are the sessions scheduled?
Session 1 - November 30 @ 7:30 PM to 9:30 PM EDT
Session 2 - December 1 @ 7:30 PM to 9:30 PM EDT
Session 3 - December 7 @ 7:30 PM to 9:30 PM EDT
Session 4 - December 8 @ 7:30 PM to 9:30 PM EDT
What is covered in the workshop?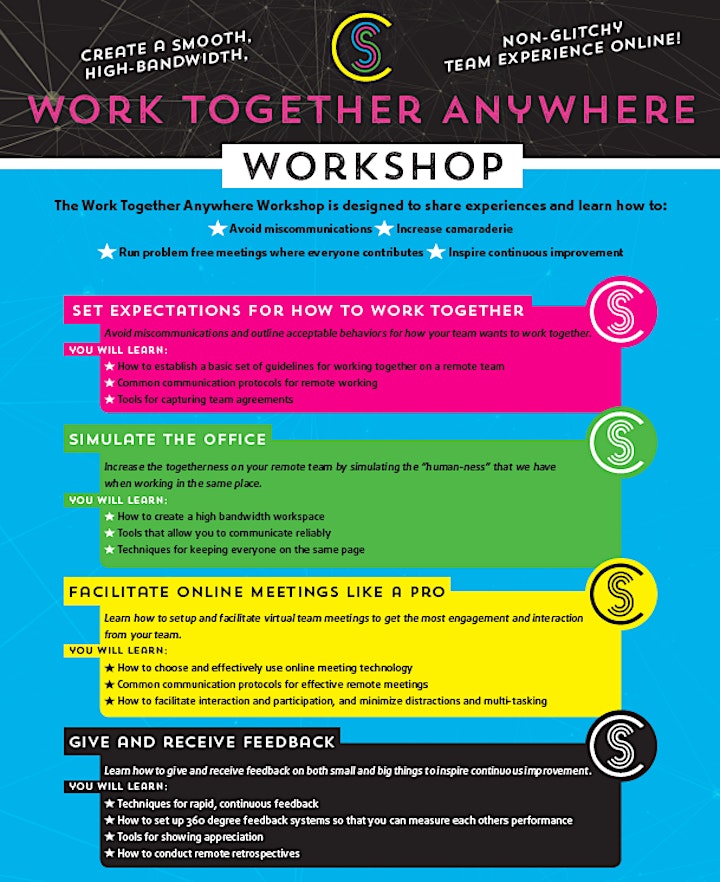 What is included in the workshop?
4-live 90-minute working sessions
Asynchronous and synchronous learning activities outside of the working sessions
All workshop slides
Additional references related to remote working
Certified official Certificate of Attendance supported by Collaboration Superpowers
What do people say abou the workshop?
"The Work Together Anywhere workshop has helped us immeasurably in *building a successful & happy new distributed team*." – Mark Wightman (CTO at cloudhub360.com)"
"After the workshop, our teams started experimenting with how to best *have productive meetings with in person and remote attendees*. I also scheduled virtual lunches with people and made some new personal connections with a couple of team mates." –Bianca Roitsch (Scrum Master/Agile Coach at movingimage)
What do people say about the instructor?
"Matt was very good at explaining concepts and giving real world example which make things feel more tangible than just words on a piece of paper."
"Matt related a lot of good knowledge and practical information in a highly engaging way."
"Matt's an excellent instructor and really does a great job of mixing in real world examples to the content."
Workshop Registration Minimum
Participants get the most value from this workshop when there is a minimum of six registered participants. If the minimum amount of registered participants are not reached, the workshop will be rescheduled and all registered participants will be notified.
Location
Refund Policy
Contact the organizer to request a refund.
Eventbrite's fee is nonrefundable.