Work Shouldn't Hurt: A Practical Guide to Eliminating Workplace Bullying

Tuesday, May 14, 2013 from 9:00 AM to 12:00 PM (CDT)
Event Details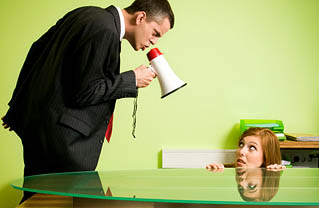 When most people hear the word harassment with respect to the work place, they almost immediately think of sexual harassment. Although sexual harassment still plagues the workplace, there is another form of harassment on the rise: workplace bullying.  The impact of workplace bullying is similar to that of other forms of harassment and discrimination including reduced productivity, undue stress and increased conflict.  However, there is no federal or state law in place prohibiting bullying in the workplace.
Movies like The Devil Wears Prada are raising awareness about workplace bullies and there's nothing fictional about the issue.  In recent polls, 37% of workers in the U.S. reported that they've been bullied at work (Workplace Bullying Institute and Zogby International).   Wise employers aren't waiting for public mandates to force them to implement anti-bullying policies.  They recognize that the only way to retain employees, stimulate recruitment and maintain a healthy, happy and more productive workforce is to have a zero tolerance policy.
In this training, participants will learn what workplace bullying is and the various forms bullying takes.  The training addresses abusive bosses, co-workers and clients. It explains both how to avoid bullying behavior and how best to respond.
NOTE:  Trainings with the Illinois Department of Human Rights - Institute for Training and Development are accessible to and usable by persons with disabilities in compliance with the Americans with Disabilities Act, Section 504 of the Rehabilitation Act of 1973 and the Illinois Human Rights Act.
 A person with a disability needing an accommodation to participate in IDHR trainings should contact the Institute for Training and Development at 312-814-2477 or (TTY) 866-740-3953 or at IDHR.Training@illinois.gov
The Institute for Training and Development requires seven (7) business days to obtain any reasonable accommodation.  If for some reason you cannot attend your scheduled training, you must request the cancellation of the reasonable accommodation at least 72 hours prior to the date of training.  All requests must be in writing and should include reason for cancelation. Failure to comply may result in suspension of future training privileges.
Organizer
Illinois Department of Human Rights
The Illinois Department of Human Rights ("IDHR") is the state agency responsible for enforcing the Illinois Human Rights Act ("Act"). The Illinois Human Rights Act prohibits discrimination in the areas of:
- Employment
- Fair Housing
- Financial Credit
- Public Accommodations
- Sexual Harassment in Education

To learn more about IDHR please visit our webpage at: www.illinois.gov/dhr
To request a reasonable accommodation for this event, please contact the Training Unit at 312-814-2477 (Voice) or 866-740-3953 (TTY) at least 72 hours prior to the date of the event. E-mail messages can be sent to: IDHR.Training@Illinois.gov
Work Shouldn't Hurt: A Practical Guide to Eliminating Workplace Bullying