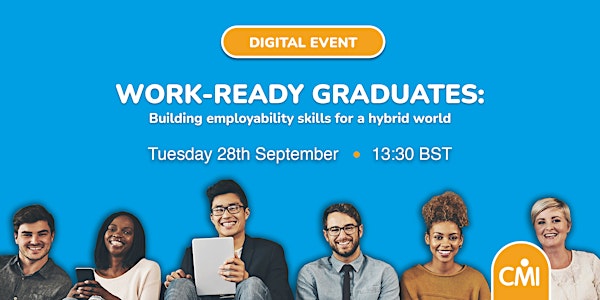 Work-Ready Graduates: Building Employability Skills for a Hybrid World
97% of employers confirmed there were 11 key employability skills - do you know what they are? Are your students graduating work-ready?
About this event
With only 22% of employers thinking that graduates entering the workplace are equipped with the key employability skills they need to be work-ready and 72% of students confessing they are not confident in how to write a CV and evidence their transferable skills from university into the workplace how can we plug this knowledge gap?
CMI recently carried out a deep dive investigation with employers into what the key employability skills were and how graduates need to be able to evidence them.
97% of employers confirmed there were 11 key employability skills - do you know what they are and are you confident your students are graduating work-ready?
Liz Spratt, Head of CMI's Research and Insight Team will be discussing the findings of this key piece of research with HE partners including Dr Dan Berger, Deputy Dean of Anglia Ruskin University, Professor Jillian Gordon, Director of Learning and Teaching at the University of Glasgow, and Matt Swarbrick, Director of Partnerships will be explaining what CMI is doing to help bridge the gap and provide your students with all the tools they'll need to be a candidate of choice and succeed in a 21st century workplace.
Our Speakers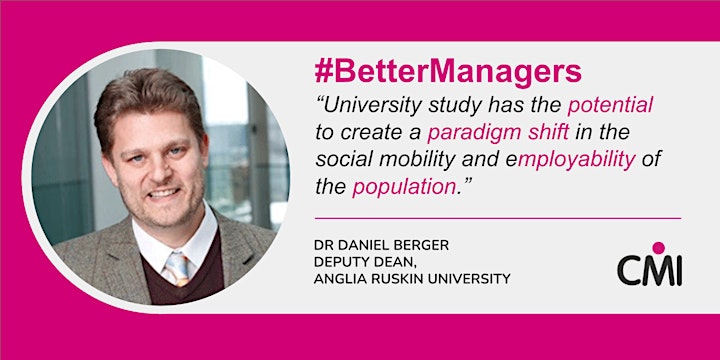 Dr Daniel Berger
Deputy Dean, Anglia Ruskin University
As a researcher, Daniel's principal interests are exploring higher education learning and teaching methods and techniques, to widen participation, improve graduate outcomes and identify and share best inclusive practices. His most recent papers address issues around attainment gaps, social mobility, and academic performance of under-represented student groups.
Having started university as a mature student – and the first in his family to enter higher education – Daniel became keenly aware that university study had the potential to create a paradigm shift in the social mobility and employability of large swathes of the population who, due to the demands and complexities of modern life, may otherwise not have the opportunity to benefit.
To ensure this shift takes place, universities must ensure that they are 'student ready', and not expect students to be 'university-ready'. This means being welcoming, inclusive, approachable and job-market focused/relevant. Daniel's findings are that this can be achieved through enriching induction programmes, ensuring assessments are authentic to workplace scenarios, designing active blended learning environments, and accrediting co-curricular activities.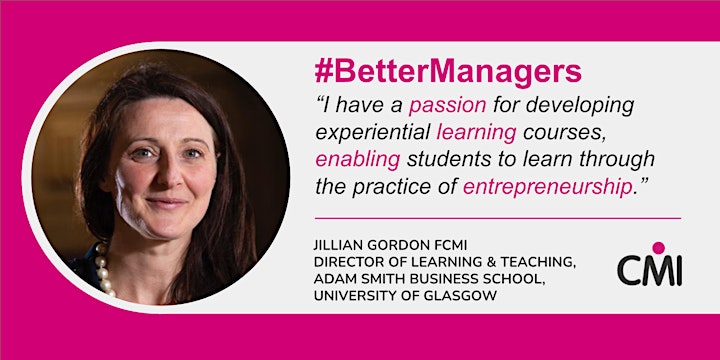 Jillian Gordon FCMI
Director of Learning and Teaching, Adam Smith Business School, University of Glasgow
Jillian is the Director of Learning and Teaching at the Adam Smith Business School, University of Glasgow, with a strategic remit for all postgraduate and undergraduate programmes and leads on the development, implementation and promotion of the Business School's learning and teaching strategy.
Jillian is an experienced entrepreneurship educator with a passion for developing experiential learning courses, which enable students to learn through the practice of entrepreneurship. She works closely with the entrepreneurial community to design and deliver learning opportunities that provide an outstanding and distinctive learning experience for participants.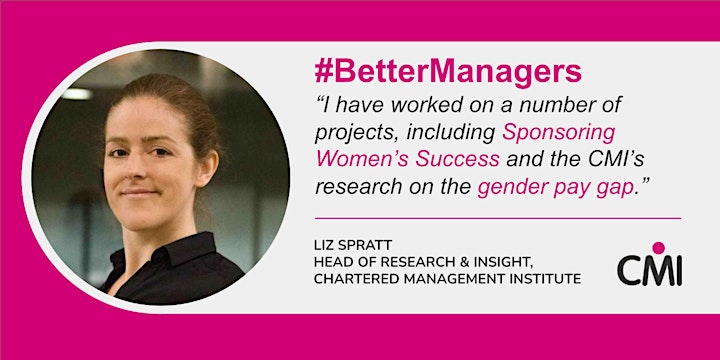 Liz Spratt
Head of Research & Insight, Chartered Management Institute
Liz is CMI's Head of Research and Insight, and leads on the production of research and insight that underpins CMI's thought leadership. Liz has worked in research for over 15 years, starting her career as a government social researcher for HMRC. At CMI Liz has worked on CMI's Management Transformed project, as well as a number of CMI women's research projects, including Sponsoring Women's Success and CMI's latest research into the gender pay gap.
Our Host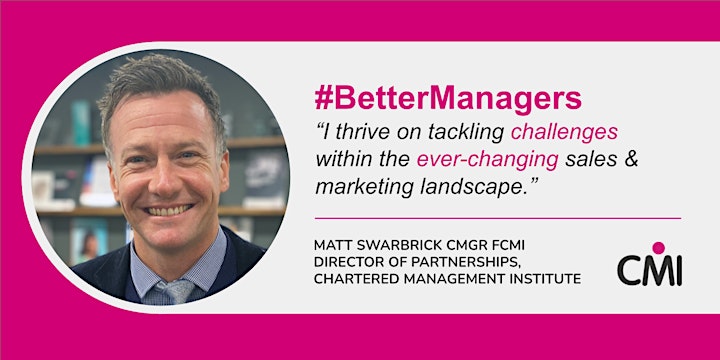 Matt Swarbrick CMgr FCMI
Director of Partnerships, Chartered Management Institute
With twenty years of marketing & sales experience in media, education, retail, and technology, Matt Swarbrick is an accomplished leader who builds strong external relationships and thrives on tackling challenges within the ever-changing sales & marketing landscape.
In the meantime...
If you're a member of CMI, or subscribe to our content, you can find thousands of exclusive, practical development resources in ManagementDirect. Log in here and search for a topic to get started!
Not yet subscribed?
From free newsletters packed with the latest trends, insights and tips for managers and leaders, to the full suite of invaluable tools and benefits that come with being a CMI member, we've got something for everyone. Visit our website to find out more.