Description
In the hustle to the top, it's easy to drop the ball on the things that should matter most, family, self-care, and personal relationships. So, how can today's entrepreneur find their plus one, without pushing their goals to the side? We're exploring ways to manage your time, your relationships and most importantly your expectations when searching for that work/love balance.
Program
Networking-> Attendees play board games to enhance their communication skills while sipping on crushed grapes and dining on light bites.
Love Hack Panel-> Dating experts and life hackers answer audience questions and provide solutions to the work/love dilemma.

Mingling-> Attendees use tips from experts to build a connection with potential bae or colleague.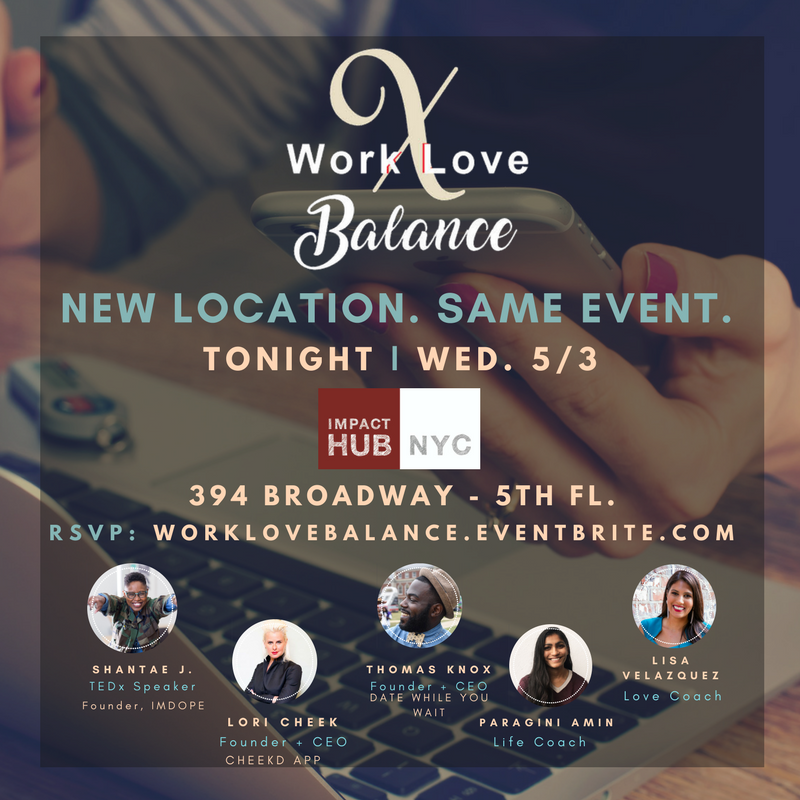 Connection Curator Thomas Knox of Date While You Wait
Date While You Wait was created in 2015, on a New york City subway platform to disrupt distraction and create connections between everyday people. Strap-hangers are invited to play board games, or just talk while waiting for the subway. The subway station remains a secret until revealed the day of on social media. Thomas has expanded Date While You Wait from the subway to unique spaces all over the city. The experience is called The Connection Series where a panel discussion is added to the board games.
Life Coach Paragini Amin
Paragini is a life coach helping value-driven people build lives they feel full and good about. With an early career in public policy, then moving through a career in web and app design, she now uses both sides of her brain to help people in love, career, and spiritual pursuits. Trained as a Martha Beck life coach, she applies a methodology firmly based in psychological and neurological research and that incorporates Buddhist thought. Paragini is recently married and plans to start having children soon.
Dating App Founder Lori Cheek of Cheek'd
Architect turned Entrepreneur, Founder and CEO of Cheekd— a mobile dating app that makes missed connections obsolete- https://itunes.apple.com/us/app/cheekd/id807619613?mt=8. Lori, a Shark Tank Veteran, was recently listed as "The Digital Dating Disruptor" and "One of the Top 10 CEOs to Watch." A University of Kentucky Architectural Graduate, Lori is no longer building structures. She's now building relationships.
Founder of IMDOPE Shantae J.
Shantae J. is in the people business, the one that focuses on human development and self-actualization. As the founder of IMDOPE., Inc., a self-empowerment, and story-sharing enterprise, Shantae J. has developed a platform designed to create narratives to save humanity one story at a time through workshops, keynote speaking engagements, and transformative programming. Shantae J. is also a consultant for business strategy, program development, professional development and public speaking. You can follow her on Twitter and Instagram @theshantaej
Love Coach Lisa Velazquez
As a thought leader with a global vision, Lisa's message Love By Example embodies the belief that when you choose to stand for your love values, you can change the world.
Lisa Velazquez is the business woman's go-to expert on sex, dating, and relationships. She is the Founder of Lisa Talks Love and a Love Coach, Sex Therapist/Educator, where she teaches you how to get real, get clear and get ready for the love life you desire. Lisa is also the Co-Founder of Love Dance Empower, a company created by women to solely reconnect women with their inner voice and sensuality through the power of dance, self-love, and sisterhood.
With her straight talk about love, Lisa has an intuitive gift for getting to the heart of the matter of what's blocking a woman on her love journey. Whether you want to learn how to date wise, get over an ex and attract your Mr. Right, Lisa has a great pulse on the lifestyle needs and love goals of high-achieving women and today's modern dating world.